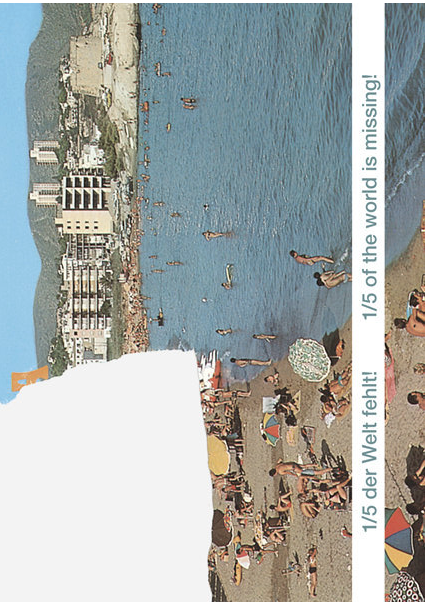 Article Number: 6122
Soft Cover,
German
, Glue Binding, 30 Pages, 2013
1/5 der Welt fehlt! / 1/5 of the world is missing!
availability unknown, if interested please write an email
Wie können Teile der Welt einfach verschwinden, Stücke herausgerissen werden, sich Ränder verändern?
Diesem Phänomen ist Jürgen O. Olbrich in jahrelanger akribischer Sammeltätigkeit in seinem Langzeitprojekt "Paper Police" (seit 1991) auf die Spur gekommen.
Über 100.000 Postkartenbeweise hat er zusammengetragen und dokumentiert. Amsterdam neben Abija, Sydney, Mallorca, Tokyo, Seattle und Gelsenkirchen folgen als gleichrangige Bildinformationen. Neue weiße Löcher in der Kartografie entstehen und können gefüllt werden.
Diese "weißen Löcher" sind auf Postkarten zu sehen und sollen anregen, die unbegrenzte Möglichkeit einer Veränderung der Weltbilder zu gestalten.
Sprache: Deutsch / Englisch