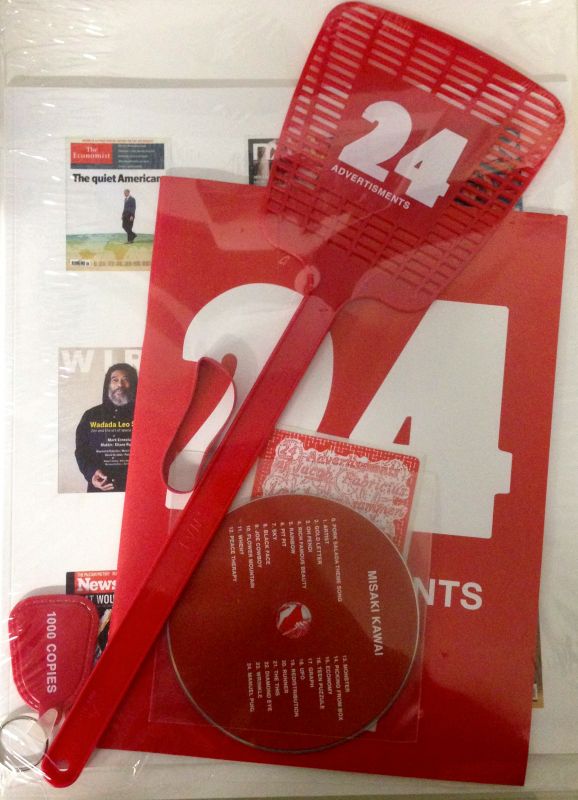 Article Number: 7015
Book with medium,
German
, Thread Stitching, 76 Pages, 2012
24 advertisements
availability unknown, if interested please write an email
There is a long tradition for artists placing works, images, texts and projects in magazines and newspapers.
24 Advertisements will continue and explore this field. During 2009, 2010 and 2011 24 artists have been invited to make one advertisement each.
Your package contains 1 keyring,1 CD, 1 sticker, 1 rubber band, 1 flyswatter
And last but not least works by Özlem Altin, Tauba Auerbach, Iñaki Bonillas, Alejandro Cesarco, Jay Chung & Q Takeki Maeda, Keren Cytter, Andrea Fraser, Goldin+Senneby with Ismail Ertürk, Tamar Guimaraes, Henriette Heise, Jeuno JE Kim, Lorna Macintyre, Sara Mackillop, Jonathan Monk, Christodoulos Panayiotou, Olivia Plender, Mandla Reuter, David Robbins, Josef Strau, Wolfgang Tillmans, Sue Tompkins, Oraib Toukan, Dahn Vo, YOUNG-HAE CHANG HEAVY INDUSTRIES
Language: English