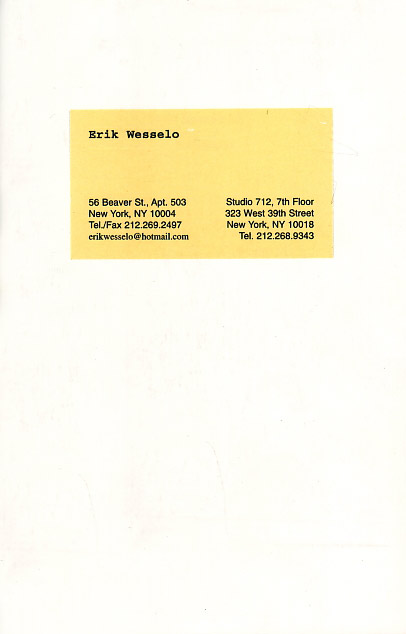 56 Beaver St.
Erik Wesselo lived in New York from January 2001 to April 2002. His address was 56 Beaver Street.
This publication is an initial product of the 56 Beaver St. project. The book is in two parts, each based on the same principle, yet each developing a separate logic of its own. The two parts are mutually complementary.
The visual section of the book includes drawings, photographs, documents, letters, notes and other material that Wesselo kept as evidence of his stay. All this material is ordered and arranged in such a way that it now tells a tale that is no longer biographical. It is a remembrance of life as it happened there, and the images give us an idea of that life. The documents bear witness to moments of contact between people, when attempts were made to communicate, to reach one another, to reach a hand out to someone, to mean something to one another. They are all signs of love and humanity, letting people see that there are others who care about you. But in them, we also feel the reverse - being irrevocably thrown back onto oneself, onto one's own resources.