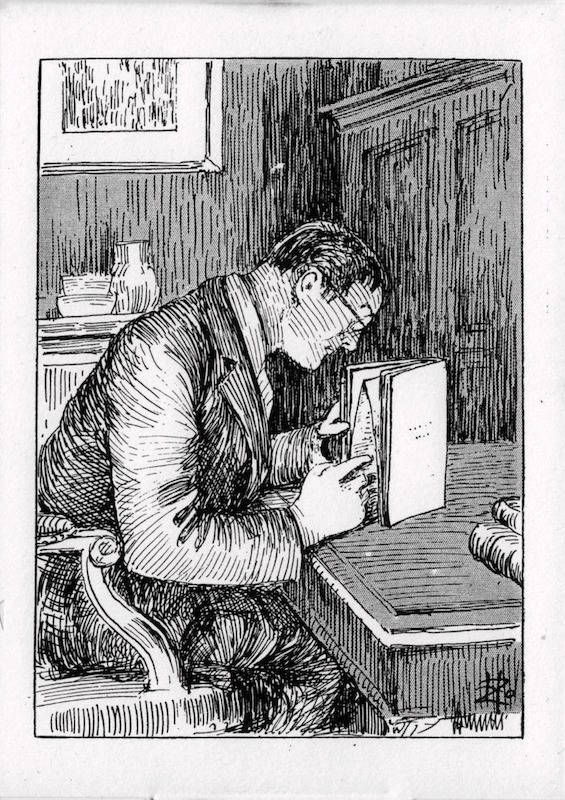 59 Illustrations for the new impressions of Africa
€ 24.00
"Saint Louis in his prison in Damietta", "A house engulfed in flames ...", "A snowman, such as children build ...": The painter and illustrator Henri-Achille Zo (1873–1933) received a total of 59 instructions of this kind in the early 1930s.
An anonymous client had sent them to him via the Parisian private detective agency Goron. Zo transferred these sometimes everyday, sometimes historical, but always trivial motifs with quick strokes into drawings that correspond to the letter to the dry style of the instructions. He himself would have been less than happy to owe his posthumous fame to this commissioned work. "These are not the drawings I would have made had I known I was illustrating Raymond Roussel," he complains to the author of Locus Solus in a letter dated October 17, 1932. By then, however, New Impressions of Africa had already been published. Considering that both men knew each other personally, the anonymous transmission seems to have had an aesthetic purpose: the greatest possible visual indifference.
»Der heilige Ludwig in seinem Gefängnis in Damiette«, »Ein Haus in voller Feuersbrunst ...«, »Ein Schneemann, wie Kinder ihn bauen ...«: Insgesamt 59 Anweisungen dieser Art erhielt der Maler und Illustrator Henri-Achille Zo (1873–1933) Anfang der dreißiger Jahre. Ein anonymer Auftraggeber hatte sie ihm über die Pariser Privatdetektei Goron zukommen lassen. Ausgehend von diesen mal alltäglichen, mal historischen, stets aber banalen Motiven hat Zo mit schnellem Strich Zeichnungen geschaffen, die dem trockenen Stil der Anweisungen in nichts nachstehen. Er selbst wäre gewiss unglücklich darüber, dass er seinen Nachruhm ausgerechnet dieser Auftragsarbeit verdankt. »Dies sind nicht die Zeichnungen, die ich gemacht hätte, hätte ich gewusst, dass ich Raymond Roussel illustriere«, beklagt er sich in einem Brief vom 17. Oktober 1932 gegenüber dem Autor von Locus Solus. Da aber waren die Neuen Impressionen aus Afrika bereits erschienen. Bedenkt man, dass sich beide Männer persönlich kannten, so scheint die anonyme Übermittlung auf einen ästhetischen Zweck gezielt zu haben: die größtmögliche visuelle Indifferenz.
« Saint Louis dans sa prison de Damiette », « Une maison en plein incendie ... », « Un bonhomme de neige, comme en font les enfants ... » : Ce sont au total 59 instructions de ce type que le peintre et illustrateur Henri-Achille Zo (1873–1933) a reçues au début des années 1930. Un commanditaire anonyme les lui avait envoyées par l'intermédiaire de l'agence de détectives privés Goron. À partir de ces sujets tantôt quotidiens, tantôt historiques, mais sans originalité, Zo a créé d'un trait rapide des dessins qui n'ont rien à envier au style sec des instructions reçues. Il serait, lui-même, certainement malheureux de devoir sa postérité à ce travail de commande. « Ce ne sont pas là les dessins que j'aurais faits si j'avais su illustrer Raymond Roussel », se plaint-il dans une lettre du 17 octobre 1932 à l'auteur de Locus Solus. Mais à ce moment-là, les Nouvelles Impressions d'Afrique étaient déjà parues. Si l'on considère que les deux hommes se connaissaient personnellement, la transmission anonyme semble avoir visé un but esthétique : la plus grande indifférence visuelle possible.