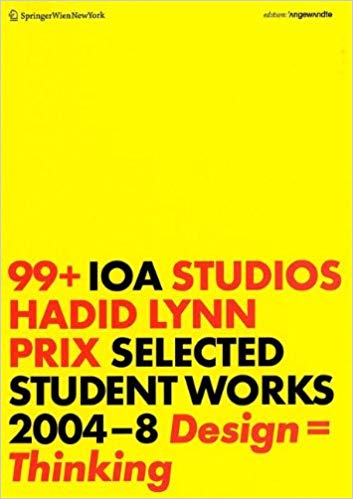 Article Number: 11755
Soft Cover,
English
, Thread Stitching, 207 Pages, 2009
99+ IOA Studios Hadid Lynn Prix
Selected Student Works 2004 - 8 Design = Thinking
availability unknown, if interested please write an email
The design studios of star architects Zaha Hadid, Greg Lynn and Wolf D. Prix offer students countless possibilities to exhaust architectural parameters across borders. The open studio structure, which enables students to work on the same topics from their first term up to their graduation, creates dynamics, which would not be possible at this scale in a conventional study structure.
In addition to these three design studios the IoA offers the Cross Over Studio, which gives a small group of students access to external aspiring architects for one term further enhancing the already exceptional spectrum of projects. Peters Sellars, Kivi Sotamaa and Hernan Diaz Alonso have successfully developed new typologies of architecture together with the students from the cross over studio.
The departments of Structural Design and Energy Design, with their advanced technologies, support the architectural education at the Angewandte.The present pictures should serve as am inspiration and let us hope for a new dynamic generation of architects.
Sprache: Englisch