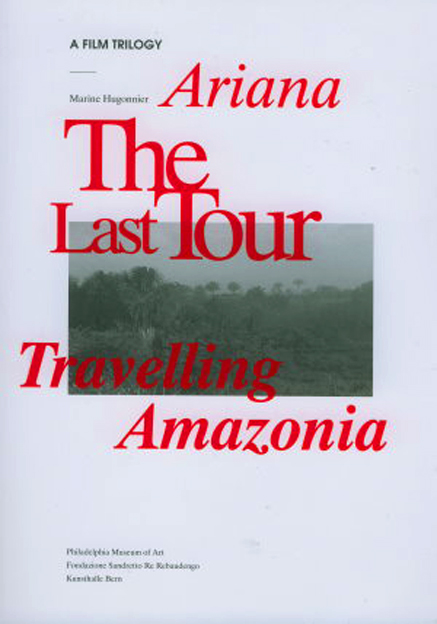 A FILM TRILOGY
Ariana - The Last Tour - Travelling Amazonia
Ariana - The Last Tour - Travelling Amazonia
Die Filme Ariana (2003), The Last Tour (2004) und Travelling Amazonia (2006) der 1969 in Paris geborenen und heute in London lebenden Künstlerin Marine Hugonnier bilden eine Trilogie, welche sich mit dem Verhältnis von Landschaft, Erzählung und Ideologie auseinandersetzt. Die Geschichte von Ariana dokumentiert ein gescheitertes Projekt: Der Drehort – ein Berggipfel – wurde verweigert, als präzise jener Punkt der visuellen Kontrolle, nach dem das Filmteam sich vorgenommen hatte zu suchen. The Last Tour hingegen ist fiktiv und beschreibt das mögliche zukünftige Szenario einer Rückkehr von weissen Flecken auf der Landkarte. Das Publikum begleitet die Kamera am Vorabend einer in die nahe Zukunft versetzte "Schließung" von Teilen der Alpen als eine Umkehrung unserer "großen Erzählung" der Moderne von Entdeckung, Eroberung, Erschließung und Kartografie. Der Film Travelling Amazonia wiederum folgt dem Verlauf der Trans-Amazonas-Schnellstrasse, einem riesigen Projekt der Brasilianischen Regierung in den 70-er Jahren, welches den Regenwald zweiteilt und die atlantische mit der pazifischen Küste verbindet. Hugonnier und ihr Team konstruieren ihre Kamera mit fahrbarem Unterbau aus den gleichen Materialien, die verwendet wurden beim Bau der Schnellstrasse. Die festgehaltenen Reiseimpressionen der Kamera auf Schienen wiederholen die Linearität der Trans-Amazonas-Schnellstrasse mit ihren kolonialistischen Pioniersidealen.

hrsg. von Kathleen Madden anlässlich der Ausstellung "Marine Hugonnier: A Film Trilogie" im Philadelphia Museum of Art, Fondazione Sandretto Re Rebaudengo und Kunsthalle Bern, mit einer Nachschrift eines Vortrages im Anschluss an die Vorführung im National Film Theatre London vom 7. Juni 2006.

Marine Hugonnier has produced an artist's book to mark the occasion of the Trilogy's tour. This book presents color stills and narrative captions for each film, Ariana (2003), The Last Tour (2004), and Travelling Amazonia (2006), in addition to an essay by the artist that details the artistic process behind each work and her conception of the films as a series.
Frankfurt/Main 2007, Revolver, 135 Seiten, 138 Farb-Abb., 24 x 17 cm, broschiert, Englisch/Italienisch/Deutsch/Französich