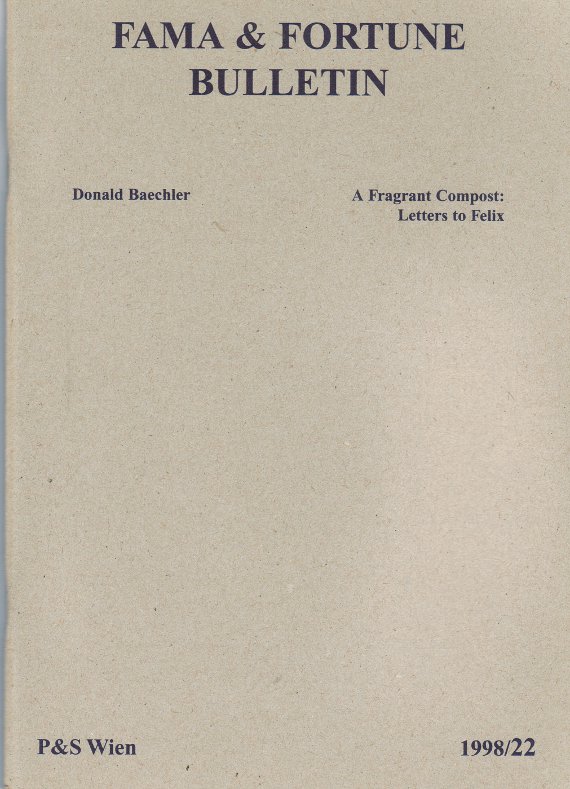 A Fragrant Compost: Letters to Felix
Fama & Fortune Bulletin, Heft 22
availability unknown, if interested please write an email
A limited edition magazine each issue of which is effectively a "performance" by a chosen artist who determines every detail of the text and graphics. Published since 1990. A collector's item.
8 letters with 47 fotographies and 2 textdocuments ("The english lesson" and "Shepherd`s pie").
Donald Baechler (* 1956 in Hartford, Connecticut) is an American artist. He attended the Maryland Institute College of Art from 1974-77, and Cooper Union from 1977-78. Dissatisfied with New York City, he proceeded to the Staatliche Hochschule für Bildende Künste Städelschule in Frankfurt am Main. Donald Baechler has amassed a great inventory of worldly images. Recorded on slides and collected in the archives of his enormous Lower Manhattan studio, they are the sources for many of the compelling images in his paintings. The cast of characters, which also includes himself, come from every source imaginable, and are stamped, silk-screened, projected, drawn, painted, printed or collaged onto surfaces. Then the process begins: underpainting, overpainting, canceling, adding, subtracting, editing until the final work emerges.
Language: English