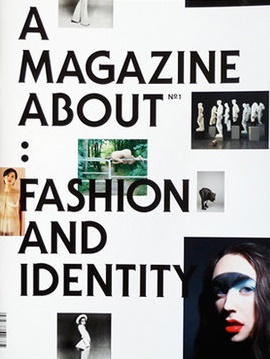 Article Number: 7372
Magazine,
German
, Staple Binding, 130 Pages, 2013, Muthesius Kunsthochschule
A Magazine About: Fashion and Identity
No.1
€ 11.00
Die erste Ausgabe von A Magazine About widmet sich dem Thema Fashion and Identity, und hier speziell der ambivalenten Rolle der Mode im soziokulturellen Kontext – als Stifterin von Identitäten und der gleichsam in ihr angelegten Verwischung eben dieser.
Das System Mode fungiert seit jeher in beinahe allen Kulturen als ein Ort der Identitätsgenese, angesiedelt im Spannungsfeld zwischen Individuation und Assimilation. Da Mode ohne ihre mediale Vermittlung jedoch undenkbar ist, muss diese dabei stets – mehr oder weniger explizit – mitgedacht werden.
Das Konzept der Publikation besteht in der Zusammenführung und Gegenüberstellung heterogener Positionen aus den Künsten und Wissenschaften zu verschiedensten Phänomenen im Feld von Mode und Identität: Inszenierung, cross dressing, Camp, Grenzüberschreitung, Differenz, das Andere, Androgynität, Emanzipation, Begehren, Stereotypen, kulturelle Performanz, Normierung – um nur einige Stichworte zu nennen. Sprache: Deutsch