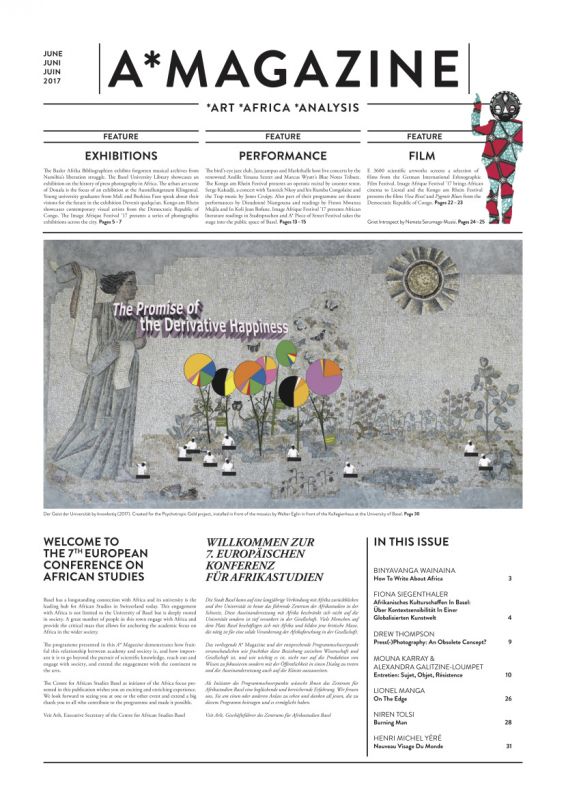 Article Number: 9808
Magazine,
English
, 32 Pages, 2017
A* Magazine June 2017
Art Africa Analysis
availability unknown, if interested please write an email
Leading up to and during the 7th European Conference on African Studies (ECAS), an extensive arts and culture programme with focus on urban Africa will pervade the city of Basel. Image Afrique presents a programme that invites a rethinking of Africa through imagery.
The festival Kongo am Rhein brings some of the best contemporary artists from the Congolese mega city Kinshasa to Basel. The Basler Afrika Bibliographien exhibit forgotten musical archives from Namibia's liberation struggle. The bird's eye jazz club, the Jazz Campus and the Markthalle host live concerts by renowned South African Jazz virtuosos. The Basel University Library shows an exhibition about the history of press photography in Africa. The urban art scene of Douala is the focus of an exhibition at the Ausstellungsraum Klingental. Young university graduates from Mali and Burkina Faso speak about their visions for the future in the exhibition Devenir quelqu'un. The German International Ethnographic Film Festival presents a series of films from and about Africa. The guides of the Walking Tour Africa and Basel invite international visitors and locals alike to explore surprising connections between Basel and the African continent in the historical parts of the city. During the international A* Piece of Street Festival artists perform their takes on postcolonial entanglements through poetry, music, enactment and installation across public spaces in Basel.

A* Magazine – A* standing for Art, Africa and Analysis – is the official publication of the ECAS arts and culture programme. It takes the form of a once-off newspaper that, in addition to providing a programme overview, also features a broad spectrum of articles, analyses, features, interviews, letters and poems related to the many questions and issues raised during these events.
language: english