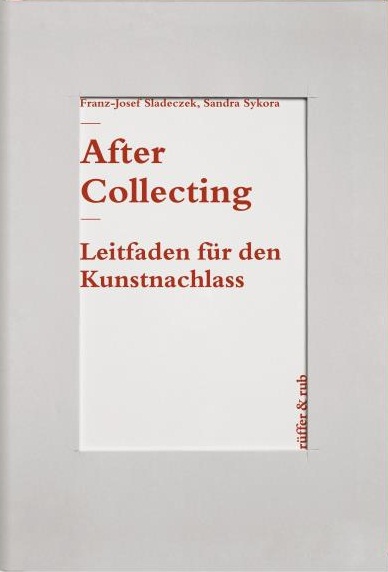 Article Number: 5707
Hard Cover,
German
, Glue Binding, 389 Pages, 2013, Rüffer & Rub Sachbuchverlag
After Collecting
Ein Praxisleitfaden für den Kunstnachlass
€ 36.20
End of Collecting! Mit dieser Situation ist irgendwann jeder Sammler, jeder Künstler konfrontiert. Es reift die Erkenntnis, dass jetzt langsam »Schluss« ist, dass die Anzahl der erworbenen resp. erschaffenen Kunstgüter nicht mehr weiter anwachsen sollen.
Ein Künstler oder Sammler hinterlässt sein Lebenswerk – und nichts ist geregelt! Viele Erben sind mit dieser Situation überfordert. Sie können den Wert der Sammlung nicht einschätzen, kennen weder die rechtlichen Grundlagen noch die steuerlichen Konsequenzen und sind verunsichert, ob sie sich einer Galerie, einem Auktionshaus oder besser einem Museum anvertrauen sollen. »After Collecting« ist das erste Buch, das sich ausschließlich diesem Thema widmet und enthält u.a. Interviews mit Experten und hilfreiche Checklisten. Es ist nicht nur ein wertvoller Praxisleitfaden für Erben, sondern auch für Sammler und Künstler, die das Problem rechtzeitig angehen und ihren Nachlass selbst in die Hand nehmen möchten. Die Quintessenz des Buches lautet: »After collecting starts with collecting«!

Interessant ist das Buch nicht nur für Sammler und Künstler, sondern auch für Mitarbeiter von Museen, Galeristen, Kunstberater und Juristen, die mit Kunstsammlern oder ihren Erben zusammenarbeiten. Sie alle tragen Verantwortung für die vom »After Collecting« betroffenen Kunstwerke. Denn Kunst ist ein (nicht nur wirtschaftlich) wertvoller Teil unserer Kultur, der einen sorgfältigen Umgang verdient hat. Das gilt für eine umfangreiche Kunstsammlung oder ein großes Œuvre ebenso wie für eine kleinere Kollektion mit wenigen Werken.
Source: http://www.ruefferundrub.ch/buecher/kunst-kultur-musik/item/126-after-collecting