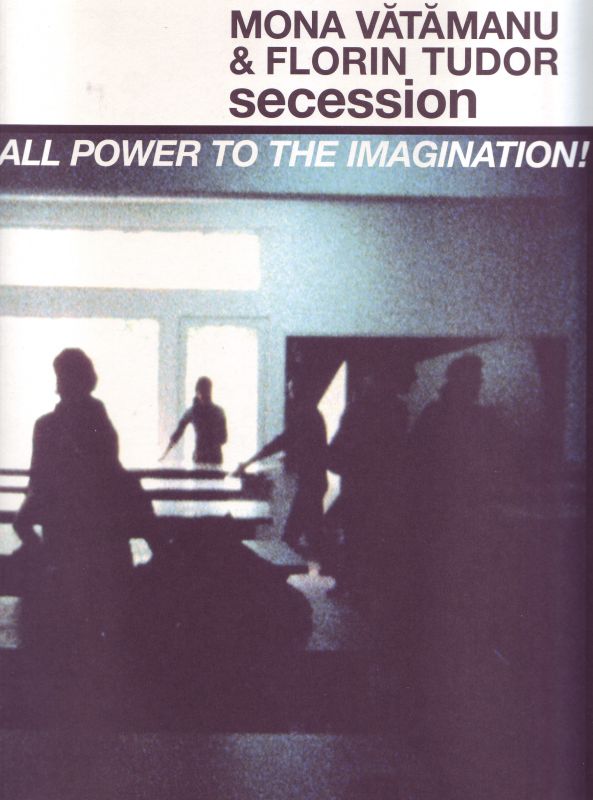 ALL POWER TO THE IMAGINATION!
€ 12.00
All Power to the Imagination! ist eine neue, speziell für das Grafische Kabinett und die Fassade der Secession entwickelte Installation der rumänischen Künstlerin Mona Vătămanu und des rumänischen Künstlers Florin Tudor.
Das seit 2000 zusammenarbeitende Künstlerpaar erforscht damit Potenziale von Widerstand, wobei sie Widerstand weniger als dogmatische, didaktische Idee denn als poetische, subtile Handlung verstehen. Das Interesse an einer solchen Betrachtungsweise deckt sich mit einer Skepsis der Künstlerin und des Künstlers gegenüber politischen Symbolen oder Slogans, die einen Wahrheitsanspruch stellen.
Die Installation besteht aus mehreren, in unterschiedlichen Techniken ausgeführten Arbeiten, die inhaltlich wie formal zueinander in Bezug stehen. Im Mittelpunkt der räumlichen Inszenierung im Grafischen Kabinett steht eine schwebende Bühne mit einer fragmentarischen Darstellung der rot-schwarzen Fahne des Anarchosyndikalismus – heute globales Symbol für die Auflehnung gegen hegemoniale Gesellschaftsverhältnisse. Beim Betreten dieses doppelten Bodens ist ein Gefühl der Instabilität zu spüren. Die damit einhergehende Verunsicherung symbolisiert jene gesellschaftliche Conditio, die sich als Folge des grundlegenden Wertewandels in den letzten beiden Dekaden entwickelt hat.
D/E