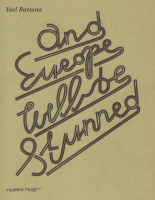 and Europe will be stunned
availability unknown, if interested please write an email
Yael Bartana (born in 1970 in Moshav Kfar Yehezkel, Israel, lives in Amsterdam and Tel Aviv) has during the last decade earned considerable international attention and acclaim. (swedish/english)
She has been nominated for and given many awards - most recently she was awarded the prestigious Artes Mundi Prize - one of the UK's major art prizes. Yael Bartana has had several solo exhibitions at among others Museum of Modern Art in Warsaw, Van Abbemuseum in Eindhoven, PS1 in New York and Kunstverein Hamburg. In year 2003 she held a six months long artist-in-residency at the Rooseum Center for Contemporary Art in Malmö, Sweden. She now returns to Malmö with her most comprehensive solo exhibition in Europe to this date - and Europe will be stunned.

Making a positive promise to the future, the exhibition and Europe will be stunned presents: Wild Seeds (2005), Summer Camp/Awodah (2007), A Declaration (2006), Mary Koszmary (Nightmares) (2007) and Mur I Wie¿a (Wall and Tower) (2009). The history of the Israeli state and the Israeli-Palestinian conflict permeates Yael Bartana's work, which also explores complex relations between Jews, Poles and other Europeans in the age of globalisation.

Aesthetically referencing propaganda films of the 1930s, Yael Bartana weaves together contrary movements that in different ways contributed to the founding of Israel: European anti-Semitism, colonialism, Socialism, and Zionism. The origin and development of Zionism are scrutinized in light of Israel's political stance toward the Palestinians and at a certain point we are geographically transported from Israel/Palestine to Poland, where a fictive political movement – "The Jewish Renaissance Movement in Poland" – advocating a return of 3 000 000 Jews, emerges amid historical layers and reflections.

The films are screened inside an intriguing exhibition design, where a grouping of building volumes evokes associations to a settlement or outpost. Posters for Bartana's films adorn the walls of the entrance to the exhibition, signalling that we are moving through a landscape of shifting images, in which documentation, staging, rhetoric, and idealization are used to capture both real and imaginary events.