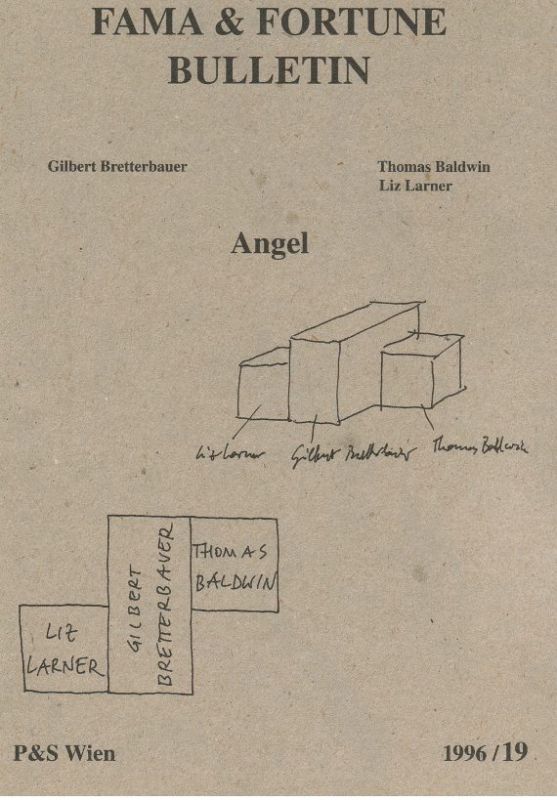 Angel
Fama & Fortune Bulletin, Heft 19
Die Zeitschrift veröffentlicht exklusiv von Künstlern gestaltete Ausgaben in kleinen Auflagen. Seit 10 Jahren ein internationales Sammlerobjekt.
Gilbert Bretterbauer, Thomas Baldwin und Liz Larner "The House" (1996)
Im Rahmen des MAK-Schindler Stipendiums konzipierte Gilbert Bretterbauer ein aus 3 Räumen bestehendes Stoffhaus. Es wurde im Garten des Schindler House realisiert. Im Hauptraum wurden Referenzen auf architektonische Strukturen mit offenen Arbeiten kombiniert. Die angrenzenden Kuben bieten Raumsituationen für die Arbeiten udn Interventionen von Liz Larner udn Thomas Baldwin.
Gilbert Bretterbauer (* 1957 in Wien) ist ein österreichsicher Künstler. Nach dem Studium an der Universität für angewandte Kunst in Wien war er dort Assistent (Gestaltungslehre), übernahm 1988 einen Lehrauftrag in der Meisterklasse für Grafik und ist seit 1990 als frei schaffender Künstler tätig. Schwerpunkte seiner Tätigkeit sind Rauminstallationen, Textil und Tapisserie. Als Entwerfer von Teppichen, Vorhängen und Möbelstoffen arbeitet Gilbert Bretterbauer eng mit Architekten zusammen und gestaltet textile Oberflächen in Gebäuden.

Die Künstlerin Liz Larner (* 1960 in Sacramento, Kalifornien) wandte sich allerdings erst nach ihrem Studium der Fotographie am California Institute of Arts der Bildhauerei zu. Sie bemerkte für sich die Notwendigkeit, künstlerische Ideen nicht auf Fotographien, sondern im realen Raum zu verwirklichen. Liz Larners Skulpturen, oft aus widersprüchlichen Materialien angefertigt, befassen sich stets mit der Wechselwirkung von Raum und Form, Gleichgewicht und Instabilität. Das Gesamtwerk der Künstlerin reicht von kleinen Stücken, wie die Serie "Kulturen" der späten 80er Jahre, bis hin zu großflächigen Installationen. Seit ihrer Beteiligung an der Ausstellung Helter Skelter im Modern Museum of Contemporary Art in Los Angeles (1992) wird Liz Larner als eine der schöpferischsten zeitgenössischen amerikanischen BildhauerInnen gehandelt.
Sprache: Deutsch