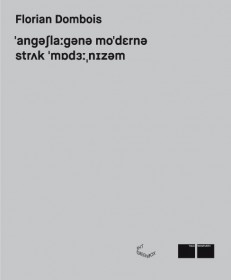 Article Number: 6240
Book with medium,
German
, Thread Stiching, 98 Pages, 2014,
The Green Box
, ISBN 978-3-941644-68-7
Angeschlagene Moderne
Struck Modernism
€ 32.90
Angeschlagene Moderne ist ein Projekt des Künstlers Florian Dombois, bei dem er Skulpturen mit einem Hammer anschlägt und ihren Eigenklang mit einem Kontaktmikrofon aufnimmt. Diese Klänge werden anschliessend zu einer Uhr gefügt und in einer Soundinstallation weiterverwendet.
In der Publikation werden 23 Skulpturen aus der Sammlung des Museum Haus Konstruktiv in Zürich in ihrer klanglichen Qualität vorgestellt und um einen Essay der deutschen Komponistin Isabel Mundry sowie ein Gespräch zwischen Dombois und Sabine Schaschl, der Direktorin des Museums, ergänzt. Die Publikation erscheint anlässlich der gleichnamigen Einzelausstellung im Haus Konstruktiv und enthält eine 7'' Vinyl Schallplatte mit den Klängen der Soundinstallation.
Sprache: Deutsch/Englisch