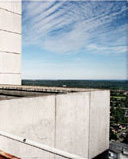 Anja Franke_Installations
availability unknown, if interested please write an email
The book offers a thorough retrospective view of Anja Franke's work during the last 15 years. Mikkel Bogh, director of the Royal Danish Academy of Fine Arts in Copenhagen, contributes with an essay on the experience of mental and physical spaces in Franke's installations and her concern with borders, limitations, divisions and relations. Sanne Kofod Olsen, curator, writer and director of the Funen Academy of Fine Arts in Odense, looks into recurrent aspects or principles in Franke's practice such as man, woman, apple, house and Franke's play with gender roles. The artist introduces each work with a description and personal comments.
Anja Franke works with installation, video and photography in which she often invites the viewer to participate and physically interact. The human body is present and represented spatially both as a subject and an object. The use of language also holds an important part especially in the continual inclusion of dialogues between Anja Franke and the fictional character Kaj Aage Drafenharden. Words and visual imagery are linked in peculiar and unexpected ways either as supplementing each other or as one element directly influencing or controlling the other.
Anja Franke (b. 1962) is educated at the Royal Danish Academy of Fine Arts in Copenhagen. She is the co-founder of the exhibition space and video archive Max Mundus (1994-96), co-founder and co-publisher of the magazines Månedsskrift for Kunst og Kunstrelateret Materiale (1994-99), and co-founder of the exhibition space Mfkokm (1998-2001). In 2004 she curated an exhibition in and around her own home in Herlev, a suburb of Copenhagen, called instantHERLEV that raised questions on the connection and the separation of public and private space.
Language: English