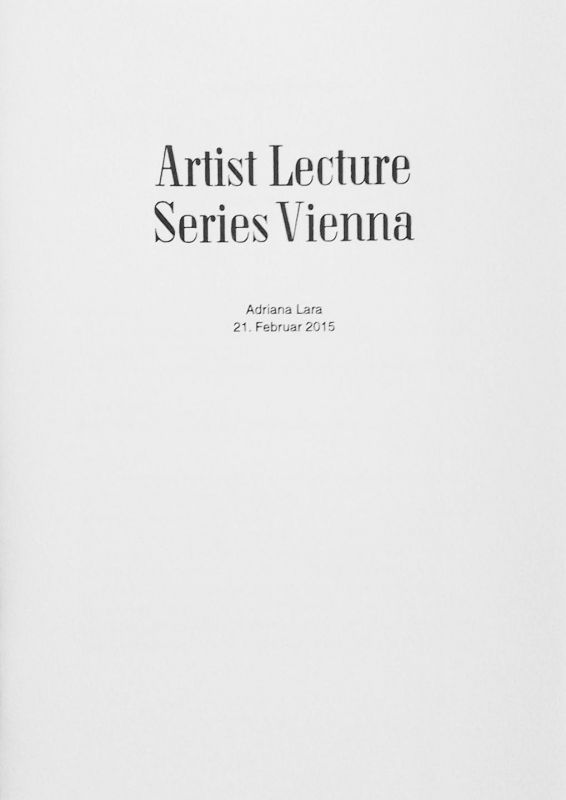 Article Number: 8220
Soft Cover,
English
, Staple Binding, 14 Pages, 2015, Artist Lecture Series Vienna
Artist Lecture Series Vienna
€ 28.00
Adriana Lara 21. Februar 2015
Ein Video-Archiv aller stattgefundenen Vorträge wird von den Organisatoren der Artist Lecture Series Vienna geführt und erweitert. Eine Auswahl an Transkriptionen der abgehaltenen Lectures werden in Form von Publikationen einem breiteren Publikum zugänglich gemacht.
Adriana Lara wurde 1978 in Mexico City geboren. Sie studierte Fotografie an der Escuela de Fotografia, Mexico City. Eine einjährige Unterbrechung von 2000-2001 führte sie an die Royal Academy of Art, The Hague. Von 2002-2003 nahm sie am pädagogischen Jahresprogramm Le Pavillon des Palais de Tokyo in Paris teil. Zurück in Mexiko gründete sie 2004 das kuratorische Projekt Perros Negros sowie gemeinsam mit Emilio Acevedo die Band Lasser Moderna. 2005 erhielt sie den Preis Jovenes Creadores of FONCA für das Internetprojekt NAAP, ein Archiv fiktionaler Kunst im öffentlichen Raum. Seit 2006 ist Lara Editor-in-Chief von Pazmaker, einem vierteljährlich in Mexiko City publizierten Kunst-Fanzine.
Sprache: Englisch