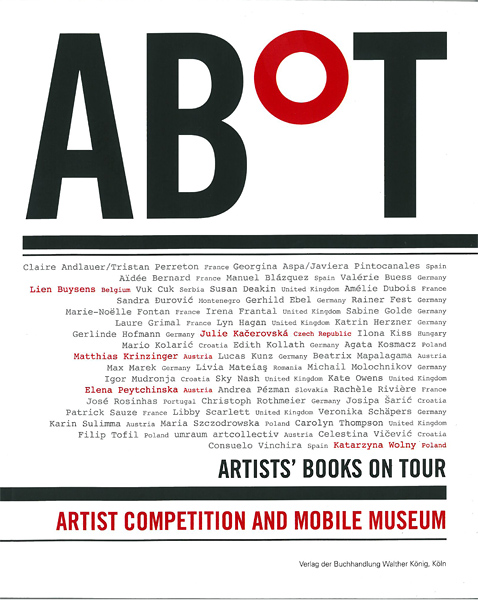 Article Number: 4975
Soft Cover,
English
, Glue Binding, 80 Pages, 2011
Artists' Books on Tour
Artist competition and mobile museum
The present calatog features the five winning projects and 45 other selected competition works.
To familiarize a broader public with the multi-faceted genre of artists' books, the MAK - Austrian Museum of Applied Arts/Contemporary Art in Vienna, MGLC - Lubljana's International Centre of Graphic Arts, and the Praque-based UPM - Museum of Decorative Arts have joined forces to launch Artists' Books on Tour. Artist Competition and Mobile Museum, a EU-funded project. One major objective of the competition was to gain a better view of the Europe-wide creative work in the field of artists' books. To this effect, Europe's (book) artists were invited to deal with the subject of artists' books an their multiple forms of aesthitic expression.
With contributions by Jianping He, Martina Kandeler-Fritsch, Helena Koenigsmarková, Kathrin Pokorny-Nagel, Florian Pumhösl, Nevenka Sivavec, Christoph Thun-Hohenstein, Lawrence Weiner, Maria White
(Quelle: Klappentext)