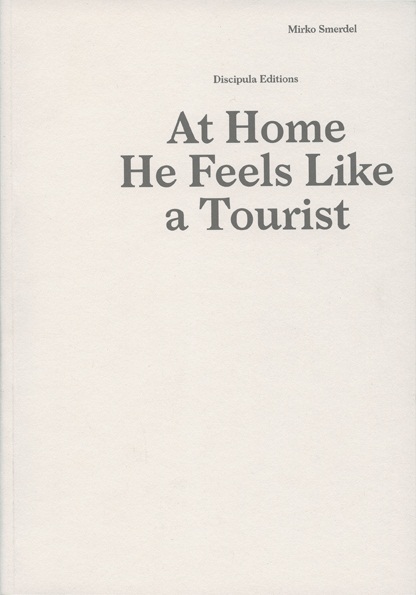 Article Number: 5695
Soft Cover,
English
, Thread Stiching, 60 Pages, 2013, Discipula Editions
At Home He Feels Like a Tourist
€ 18.00
"At Home He Feels Like a Tourist" displays in book form Mirko Smerdel's research interests and strategies of artistic production: the observation and categorisation of pre-existing images or objects, the use of narrative as a research tool, the dialogue between micro and macro, private and public. All the images in AHHFLAT come from a group of negatives bought online sight unseen from the USA. They capture snapshots of what looks like the recreation time of three separate and independent groups of people.
Linking them, is their acting within a common frame. Like tourists at home, these people pose and move within symbolic and iconic places characteristic of the American landscape and its culture.
Originally conceived as private memories, once these images are made public and seen through the eye of the stranger they undergo an inevitable transformation.
By playing on the nature of the material in its possession, Mirko builds and organises 3 intertwined stories that look at american society from an inner and intimate point of view.
Joined up by extracts from a text of cultural geography, the pictures in AHHFLAT create a multi-layered narrative construct open to speculation and interpretation.
Language: English