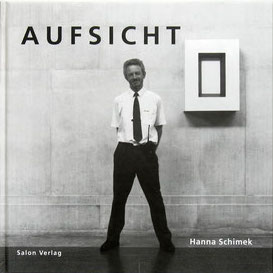 Aufsicht
availability unknown, if interested please write an email
Die Wiener Künstlerin Hanna Schimek realisierte in 14 europäischen und amerikanischen Museen moderner und zeitgenössischer Kunst ein Fotoprojekt, das jene Menschen in den Mittelpunkt rückt, die unauffällig und doch ständig präsent, unbeachtet und doch ständig beobachtend, scheinbar untätig doch ständig wachsam in der Wahrnehmung der Museumsbesucher normalerweise eine Nebenrolle spielen - das Aufsichtspersonal als Hüter der Kunst.
Diesen Menschen, die mehr Zeit mit der Kunst unserer Zeit verbringen als die meisten Menschen ist das Buch gewidmet.
In fourteen European and American museums of modern and contemporary art, Viennese artist Hanna Schimek realised a photographic project which places those centre-stage who – inconspicuous and yet constantly present, unobserved and yet constantly observing, seemingly inactive, yet continuously watchful in their observation of the museum-goers, normally play a subordinate part – the invigilating staff as guardians of art. To these individuals, who spend more time with the art of our times than most of us, this book is dedicated.
Sprache: Deutsch / Englisch