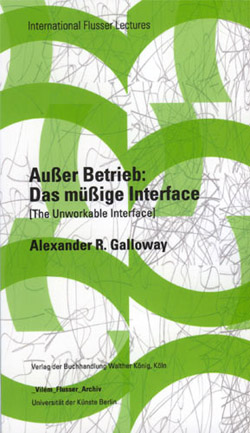 Außer Betrieb: Das müßige Interface
"Just Another Story About Leaving", a title that symbolically recalls the idea of departure and separation, is a multiform project that includes both a two-room exhibition, specifically conceived for MACRO, and the artist's personal journey through the various ages of the "Eternal City."
The photographs of Just Another Sculpture for Roma will be included in a catalogue published by Electa Mondadori, together with a selected anthology of the most important stages in Lüthi's research, and a photographic section on the exhibition project. The catalogue will provide a sweeping overview of Lüthi's work, originating with the artist's personal vision for the exhibition. It will also include essays by Luca Massimo Barbero and Elena Forin, as well as a conversation between the artist and Christoph Lichtin. *****
Interfaces are back, or perhaps they never left. The familiar Socratic conceit from the Phaedrus of communication as the process of writing directly on the soul of the other has, since the 1980s and 1990s, returned to center stage in the discourse around culture and media. Windows, doors, airport gates and other thresholds are those transparent devices that achieve more the less they do: for every moment of virtuosic immersion and connectivity, for every moment of volumetric delivery, of inopacity, the threshold becomes one notch more invisible, one notch more inoperable. In this lecture we will discuss the interface, what Gérard Genette called a "zone of indecision" between the inside and outside of media. What is a computer interface and how does it structure interaction, work, and play?