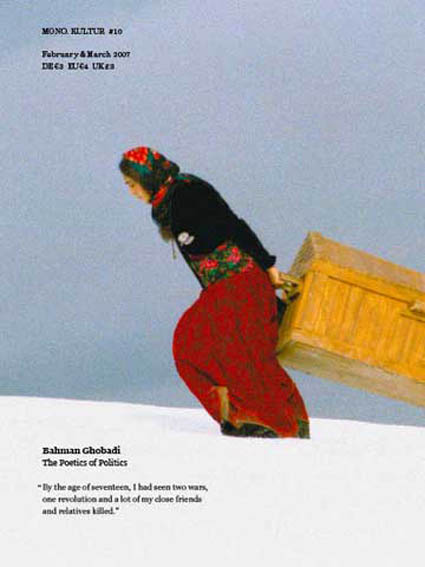 Bahman Ghobadi
The Poetics of Politics
availability unknown, if interested please write an email
o.A.
Little known in the West, Kurdish director Bahman Ghobadi has proven himself, with a few short and feature films, to be one of the most impressive filmmakers of our time. In a constant struggle with the difficult circumstances in his home country, Iran, Ghobadi is a restless man, driven to document and portray the fate of the Kurds in Iran as well as in Iraq and to lend his voice to those who do not have the chance to be heard. While his films confront the audience directly with the utter harshness and hopelessness of Kurdish life, he has mastered the art of protecting the viewer through the beauty and poetry of his images. With his stories, Ghobadi asks painful questions, wrapping the devastating answers in overwhelmingly beautiful pictures that render his films a disturbing and yet strangely enchanting experience at the same time.
Bahman Ghobadi was born in 1969 in Baneh, a province of Kurdistan in Iran. After earning his B.A. in film directing from the Iranian Broadcasting College, he worked briefly as an industrial photographer before turning to film full-time. His first documentary Life in Fog in 1995 tells the story of a 14-year-old orphan that is forced to quit school and start smuggling goods across the Iran-Iraq border to feed his siblings. In 1999, Ghobadi told a similar story in his international breakthrough as a director with A Time for Drunken Horses, the first Kurdish full feature film in the history of Iranian cinema. By working with lay actors – often children – replaying their real role in life, Ghobadi creates films that oscillate between documentaries and fiction films. He blurred the lines between the two genres even further when he depicted with Turtles Can Fly in 2004 the effects of the American invasion of Iraq on the Kurdish minorities in the countryside by shooting the film within two weeks of the actual fall of Baghdad, setting the story against real-life events.
Ghobadi's unique blend of reality and fiction, of poverty and poetry, of hope and hopelessness, has gained him a quiet but considerable reputation. His films have been selected for an impressive range of international festivals and awards, including the Camera d'Or Award at the Cannes Film Festival in 2000 and the Peace Film Award at the Berlinale in 2005. His latest film Half Moon won the Golden Seashell at the 2006 San Sebastian International Film Festival. In Iran, it is banned under the allegation of promoting separatism.