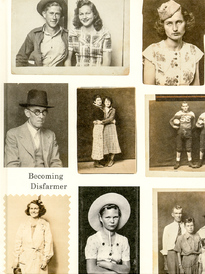 Becoming Disfarmer
€ 58.00
Becoming Disfarmer uses a compelling sequence of over 100 images to tell the story of Mike Disfarmer's vernacular portraiture and its transformation into art. This monograph features his vintage prints along with a selection of enlargements made from his negatives in the 1970s, through which his work first became known.
Disfarmer's postcard-size vintage photographs are reproduced in full color to accurately convey their varied surfaces, and most of the examples are shown in the condition in which they were found, rather than as restored images. This publication also reproduces the backs of selected vintage photographs and provides transcriptions of all handwritten notes that appear on the objects. In addition, the monograph contains high-quality reproductions of newspaper pages in which Disfarmer's images appeared, locally produced historical journals that include images by other photographers who worked at the same time and in the same region as Disfarmer and album pages like those for which Disfarmer's photographs were originally made.

These fascinating additions to the scholarship were collected as primary research by the editor over a three-year period and provide historical context for Disfarmer's portraits. Complete with three scholarly essays, a bibliography and exhibition history, this monograph qualifies as the most comprehensive Disfarmer publication to date.