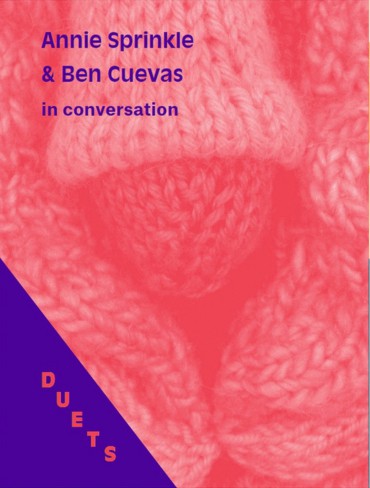 Ben Cuevas & Annie Sprinkle in Conversation
DUETS
€ 16.00
Visual AIDS artist member Ben Cuevas speaks to Annie Sprinkle about art, knitting, postporn, ecosex, HIV, love, loss, risk, activism, feminism, go-go dancing, orgasms, humor, death and more.
Ben Cuevas is a Los Angeles-based interdisciplinary artist whose work spans a wide range of mediums including installation, sculpture, fiber, photography, video, performance, and sound.
Annie Sprinkle was a Manhattan-based sex worker for twenty years before she morphed into a multimedia artist and filmmaker.
Foreword by John Chaich. Afterword by Beth Stephens.
DUETS is a series of publications that pairs artists, activists, writers, and thinkers in dialogues about their creative practices and current social issues around HIV/AIDS.