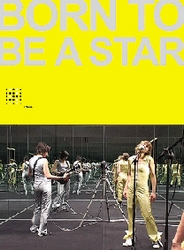 Article Number: 8382
Soft Cover,
German
, Thread Stitching, 162 Pages, 2006
BORN TO BE A STAR
availability unknown, if interested please write an email
"Born to be a Star" geht dem Paradigma des Starsystems unter dem Aspekt der ästhetischen und symbolischen Produktion und seiner kulturellen und popkulturellen Auswirkungen nach.
Neuorientierungen im künstlerischen Umgang mit der Popkultur bilden unter anderem den Ausgangspunkt zur Formulierung einer optionalen Gegenposition zu den in den Massenmedien forcierten charakteristischen Mystifikationen. Postmoderne, Poststrukturalismus und Dekonstruktivismus, welche ein Netz von Individualitätsentwürfen produzierten, reichen nicht mehr, vielmehr werden abgegrenzte Positionen und Hierarchien aufgebrochen durch das Forcieren der Differenzen.
Mit Beiträgen von Peter Bogner, Ursula Maria Probst, Gabriele Werner, Jutta Koether, Katarina Matiasek, Justin Hoffmann, Karin Pernegger, Nina Stuhldreher, Christina Nemec, Constanze Schweiger, Raimer Stange, Elisabeth Penker, Cosima Rainer, Yo Taubert, Ina Wudke Sprachen: Deutsch, Englisch