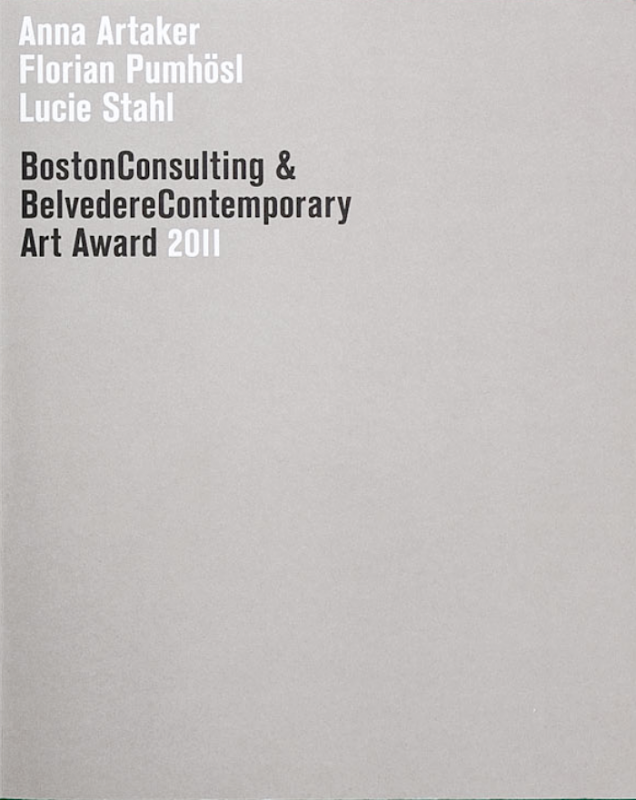 Article Number: 4195
Soft Cover,
German
, Glue Binding, 88 Pages, 2011
Boston Consulting Group & BelvedereContemporary Art Award 2011
availability unknown, if interested please write an email
[2011] wurde zum dritten Mal der BC21 BostonConsulting & BelvedereContemporary Art Award auf Initiative der Boston Consulting Group Wien in Zusammenarbeit mit dem Belvedere verliehen.
Mit 20.000 Euro stellt der Preis die höchstdotierte von der Privatwirtschaft vergebene Auszeichnung für zeitgenössische Kunst in Österreich dar und beinhaltet zusätzlich eine Ausstellung und eine monografische Publikation. Der Preis fördert junge, innovative KünstlerInnen und wird alle zwei Jahre verliehen. Die Künstler müssen jünger als 40 Jahre und in Österreich geboren oder seit mindestens fünf Jahren in Österreich tätig sein.
Den bisherigen Gewinnern Constantin Luser (2007) und Nadim Vardag (2009) eröffnete der Preis vielversprechende neue Wege und Kontakte.
Die Nominierungsjury - Sabine Breitwieser, Chefkuratorin des Department of Media and Performance Art am Museum of Modern Art, New York, Yilmaz Dziewior, Direktor des Kunsthaus Bregenz, Boris Ondreicka, Künstler und Kurator (Manifesta 8), und Kathleen Rahn, Direktorin des Kunstvereins Nürnberg-Albrecht Dürer Gesellschaft - ernannte für den BC21 Art Award 2011 die KünstlerInnen Anna Artaker, Florian Pumhösl und Lucie Stahl.
Von 22. September bis 20. November 2011 [wurden] die drei nominierten Positionen im Rahmen einer Ausstellung im Augarten Contemporary präsentiert.
Die Auswahljury - Annie Fletcher, Kuratorin am Van Abbemuseum Eindhoven, Matthias Mühling, Sammlungsleiter und Kurator für internationale Gegenwartskunst an der Städtischen Galerie im Lenbachhaus und Kunstbau München, Jay Sanders, Co-Kurator der Whitney Biennale 2012, Jonas Storsve, Kurator am Centre Pompidou Musée national d'art moderne Paris, und Agnes Husslein-Arco, Direktorin des Belvedere - gab am 20. September die Preisträgerin Lucie Stahl bekannt.
Lucie Stahl überzeugte die Jury mit ihrer reflexiven Arbeit und Bildsprache (Quelle: Belvedere).