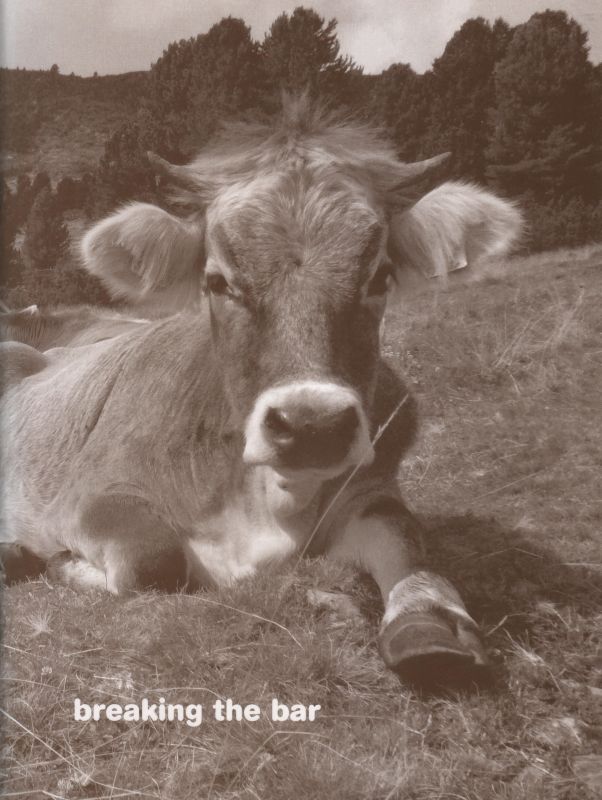 Article Number: 6550
Book with medium,
German
, Staple Binding, 32 Pages, 2008, Correspondents
BREAKING THE BAR
€ 10.00
BREAKING THE BAR was commissioned by the Bludenzer Tage Zeitgemäßer Kunst and performed there on November 29, 2008. Following the instructions in the score, the musicians broke bars of chocolate on their chairs, and the audience was offered to eat the bits and pieces. Subsequently, the chairs were taken off the stage and placed in the entrance hall where the audience could read the score on the glass facade. The drawing measures 27 x 2 m.
"As a visual artist I have been trained in the triumvirate of image, space and concept. My practice of composing is rooted here. Apart from most trained composers, I am not working with relatively fixed autonomous material, or an artificial construction of signs, but the parameters of the composition derive from a real dialogue between the visual and the acoustic. Because I 'use' time, I compose; by working with tones and sounds, objects and space, something multi-media arises; because my graphic scores give the musicians a voice in performing the works, I 'compose' with human activity."
William Engelen lives and works in Berlin and Rotterdam. He exhibits and performs widely, most recently at Haus am Waldsee, Berlin and the Drawing Center, New York City. His book Partitur was published by Neuer Aachener Kunstverein, 2003 and Verstrijken, Audio Works 1999-2008 was published by Verlag für Moderne Kunst, Nürnberg, 2008.
Languages: English/German