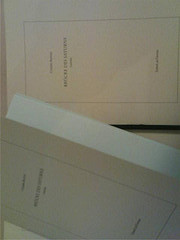 Article Number: 2303
Soft Cover,
German
, Staple Binding, 20 Pages, 2008,
Brücke des Saturns
Gedichte
€ 10.00
Brücke des Saturns | Bridge of Saturn is a selection of poems from Tórax by Cristián Berríos, Chilean poet and underground writer, translated into German. Brücke des Saturns is the first edition of EntreLasTierras publications a collaborative project between the worlds 100% self-sustained.
The authors selection includes poems such asMenares, Greenhouse of Lechery or The Awakeningtranslated into German by Gabrielle Cram. The publications will be available through diverse distributors (TBA) and is published and presented on December 8 within the event I resist you! part II at Schikaneder, Vienna.
Cristián Berríos (Santiago de Chile, 1975), poet and writer. In digital format he publishedChocolate Post Mortem, Tales of Sueñobscuro, The Lay Brotherhood, Holy Grail of an Underground andShort Symphony of an Unrepentant Crime. His texts appeared also in publications in Chile, Mexico, Venezuela and Peru. In 2009 he was part of Me Urbe Arbitrary Anthology (Chile-Venezuela). Currently he edits the independent magazine Puente de Saturno | Bridge of Saturn.