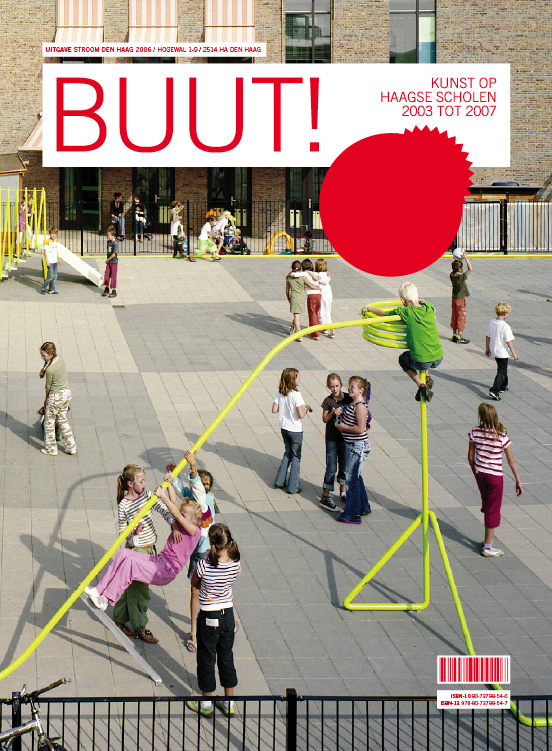 Article Number: 2286
Soft Cover,
Dutch
, Thread Stiching, 64 Pages, 2006,
Stroom de Haag
, ISBN 978-90-73799-54-7
BUUT!
Kunst op Haagse scholen 2003 tot 2007
€ 10.00
De publicatie 'BUUT! Kunst op Haagse scholen 2003 tot 2007' is een uitgebreide presentatie van en een prikkelende reflectie op kunstprojecten bij scholen.
Dit gebeurt aan de hand van een overzicht van de circa 16 kunstwerken die in de periode 2003 tot 2007 op scholen in Den Haag zijn gerealiseerd. De publicatie laat een breed palet zien van de vormen die 'kunst op school' kan aannemen: van een sculptuur op het schoolplein tot een multifunctioneel meubel of een interactief TV-station. In teksten van Jan Hoek en Jaap Huisman en een strip van Barbara Stok wordt het onderwerp 'kunst op school' verder belicht en voorzien van frisse en persoonlijke kanttekeningen.

Dankzij een financiële regeling van de gemeente Den Haag wordt bij nieuwbouw of verbouw van scholen een bepaald bedrag beschikbaar gesteld voor kunstopdrachten. De werken komen tot stand onder begeleiding van Stroom Den Haag. Vaak worden de leerlingen rechtstreeks bij de ontwikkeling en realisering van de kunstwerken betrokken en wordt het project vergezeld door een educatief programma. De alledaagse aanwezigheid van het kunstwerk op school is van groot belang voor de ontwikkeling van 'kunstbesef' en het cultureel bewustzijn van kinderen.