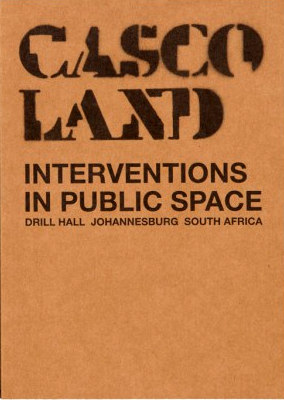 Article Number: 2574
Soft Cover,
English
, Glue Binding, 160 Pages, 2008,
post editions
, ISBN 9789059730779
Cascoland. Interventions in Public Space
Drill Hall, Johannesburg, South Africa
€ 22.50
Cascoland is a multidisciplinary public art project, with the aim to explore a series of interventions in public space to create awareness of urban issues, mobility and the use of public space in a positive and creative framework.
The first SA edition, 'Cascoland eNewXds2006', took place from 1 February to 12 March 2006 in New Crossroads, Cape Town. The Joubert Park Project has invited Cascoland to execute a second SA edition of the project at the Drill Hall (in the heart of Johannesburg's inner city), Johannesburg between 1 February and 18 March 2007. Through artistic interventions in public space, the construction of architectural objects, research into the use of public spaces and audience participation the Drill Hall regained it's public function.
Language: English