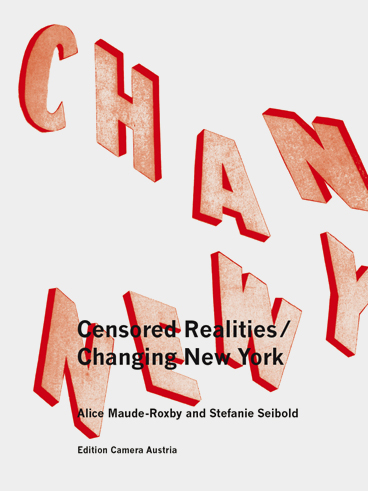 Censored Realities
The complete reclaimed texts of art critic and political journalist Elizabeth McCausland intended for photographer Berenice Abbott's 1930s seminal book Changing New York
€ 19.00
Die Forschung zu weiblichen/sapphischen Kollaborationen der Moderne deckt fortlaufende Prozesse der »Auslöschung« oder des »Aus-der-Kunstgeschichte-heraus-Schreibens« weiblicher Protagonistinnen auf.
Ein Beispiel ist die von Dutton publizierte Buchausgabe des Projekts »Changing New York« der Fotografin Berenice Abbott und der Autorin Elizabeth McCausland aus dem Jahr 1939. Es ist kaum bekannt, dass Dutton sowohl die Originaltexte, die McCausland zu Abbotts Fotografien geschrieben hatte, als auch die von den beiden entwickelte innovative Text-Bild-Gestaltung ablehnte. Stattdessen entschied sich der Verlag für eine konservative Gestaltung und redigierte McCauslands Texte so radikal, dass lediglich knappe, inhaltsleere, mit den Originaltexten kaum mehr vergleichbare Bildunterschriften übrigblieben. So verflachte er auch die Sicht auf Abbotts Fotografien, die in der publizierten Version nur mehr wie Illustrationen eines New-York-Stadtführers erschienen.
Im Museum of the City of New York stießen Alice Maude-Roxby und Stefanie Seibold auf das vollständige Konvolut der Originaltexte, die Elizabeth McCausland, eine Kommunistin und sozialkritische Journalistin sowie langjährige Partnerin Abbotts, für das Buch geschrieben hatte. Im Archiv waren sie seit 1939 intakt und mehr oder weniger unberührt geblieben. Die kritischen Texte verorten die Fotografien im größeren politischen und sozialen Kontext der Großen Depression in den USA der 1930er-Jahre. In ihrem ursprünglichen Konzept hatten Abbott und McCausland die Texte und die Fotografien in Bezug auf die Produktion von Wissen und/oder als Werkzeug kritischer Reflexion in gleicher Weise gewürdigt. Das Buch sollte die erschütternden sozialen Bedingungen und Ungleichheiten des New Yorks der 1930er-Jahre kommentieren.
McCauslands vollständige Texte erscheinen nun erstmals in dem Buch Censored Realities / Changing New York in der Edition Camera Austria. Ein eigens für das Projekt konzipiertes Index-System ermöglicht es den Leser*innen, jeden der 100 Originaltexte den entsprechenden Fotografien Berenice Abbotts zuzuordnen, die in der ersten Changing New York-Ausgabe von Dutton und in späteren von Dover publiziert wurden. Ein ausführlicher Text und mehrere Originalbriefe geben Einblick in die Recherche der beiden Autorinnen und in die Geschichte dessen, was sie im Rahmen eines größeren Rechercheprojekts als »Sapphic Modernity« bezeichnen. Sprache: Englisch