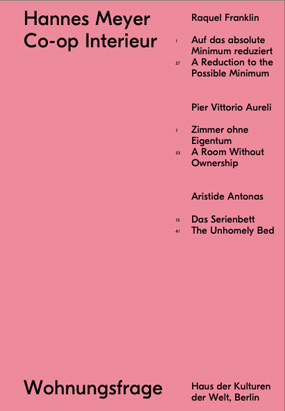 Co-op Interieur
Aus der Reihe Wohnungsfrage
Mit der Fotografie einer Zimmerecke, die sich mindestens so sehr durch die Abwesenheit von Menschen, Dingen und Raumeigenschaften wie durch die Besonderheit ihrer Gestaltung auszeichnet, artikulierte Hannes Meyer einen radikal anti-bürgerlichen Wohnstil.
Architektur und Gestaltung sollten nicht der Erfüllung historisch geformter Bedürfnisse dienen, sondern der Überwindung genau dieser Zwänge. Meyers Co-op Interieur war kein Vorschlag zur Inneneinrichtung. Es war ein Manifest für ein anderes Prinzip des Wohnens und damit für eine neue Welt.
In his photographs of the corner of a room that is characterised at least as much by the absence of people, objects, and spatial features as by the distinctiveness of its design, Hannes Meyer gave expression to a radical, anti-bourgeois style of interior. Architecture and design were not meant to fulfil historically determined needs but to overcome these very constraints. Meyer's Co-op Interieur was not a recommendation for a mode of interior design but rather a manifesto proclaiming an alternative principle of housing and »living« and, by extension, a new world.
Text: Aristide Antonas, Pier Vittorio Aureli, Raquel Franklin
Co-published with the Haus der Kulturen der Welt, Berlin
Sprache: Deutsch/English