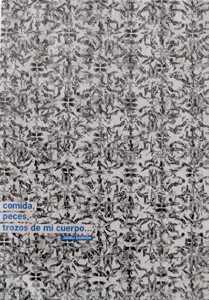 Article Number: 102
Hard Cover,
German
, Staple Binding, 26 Pages, 2008
Comida, peces, trozos de mi cuerpo
The publication of Juanli Carrión´s solo show Comida, peces, trozos de mi cuerpo… is not just a catalog, it works at the same time as an artist book, and one of the main pieces of the show as well as a self-editing catalogue for the viewer.
The visitors who attended the show were invited to compose their own catalog, since all the elements of it were given in pieces allowing the spectator to create the final publication upon their own taste. The spectator had the possibility of collecting all the pieces in a self sealed plastic bag from the table and with a panel over the wall with instructions and suggestions for the composition of the catalog, therefore taking the shape of an interactive installation itself.
Language: English