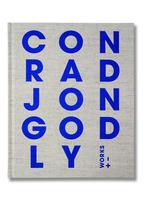 Conrad Jon Godly; Works + —
When One Paints Mountains… A little more than eight years ago, the Swiss artist Conrad Jon Godly found his way back to painting, in which he had received training in the middle of the eighties.
The profession he aspired to when he was younger became his true calling in mature years. He followed the call of the mountains and returned to his home region, the Grisons Mountains, where he has since submitted himself to a painterly exercise. Conrad Jon Godly paints mountains and nothing else. His work on canvas is akin to meditation and amounts, as it were, to an exercise in the eternity that the mountain world surrounding him represents. Never are particular mountains at the centre of Godly's oeuvre. He does not paint real mountains, but the pure essence of mountains. Hence his strong tendency to abstraction in his paintings, in whom the depth of the layers of paint corresponds to a spiritual depth that both his large and small paintings radiate.
Language: English/German