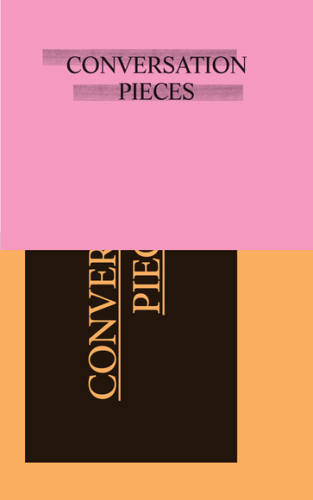 Conversation Pieces
€ 17.50
In Conversation Pieces, twelve critical thinkers confront twelve artists from the perspective of historical and present-day feminism in art, drawing from the exhibitions and performances presented by If I Can't Dance during Edition II.
With contributions by Dieter Roelstraete & Alexandra Bachzetsis, Vanessa Desclaux & Will Holder, Lisette Smits & Karl Holmqvist, Peio Aguirre & Jutta Koether, Diana McCarty & The Otolith Group, Emily Pethick & Maria Pask, Pádraic Moore & Sarah Pierce, Paul O'Neill & Falke Pisano, Patricia Grzonka & Stefanie Seibold, Jan Verwoert & Frances Stark, Binna Choi & Haegue Yang, and Frédérique Bergholtz & Katarina Zdjelar.

Conversation Pieces. Produced by If I Can't Dance, I Don't Want To Be Part Of Your Revolution, Amsterdam, and de Appel arts centre, Amsterdam. Published by Revolver, Berlin. Editor: Frédérique Bergholtz. Editorial co-ordination by Tanja Baudoin & Flora Lysen. Text editing by Janice McNab. Design by Maureen Mooren.