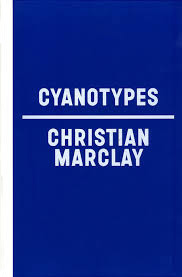 Article Number: 8497
Soft Cover,
English
, Thread Stiching, 116 Pages, 2011
Cyanotypes
availability unknown, if interested please write an email
Cyanotypes documents six distinct series of cyanotypes produced by visual artist, performer, and composer Marclay in collaboration with Graphicstudio.
Known as the inventor of "turntablism," Marclay has explored the relationship between visual and sonic phenomena through his work in collage, sculpture, installation, photography, video, and performance. In the cyanotypes, Marclay reclaims the obsolete technology of the audiocassette as a tool for visual abstraction. First developed in the 1840s, the cyanotype is cameraless photographic process performed by placing objects directly onto a photosensitive surface, resulting in a silhouetted image similar to a photogram. Commonly known as "blueprints" because of their distinctive Prussian blue hue, cyanotypes were famously used by 19th century botanist Anna Atkins and later by architects and engineers as a way of reproducing drawings prior to digital reproduction. Marclay's cyanotypes capture the abstract tangles made by unspooled cassette tapes, inviting comparisons with the paintings of Jackson Pollock and other 20th century artists.
Language: English