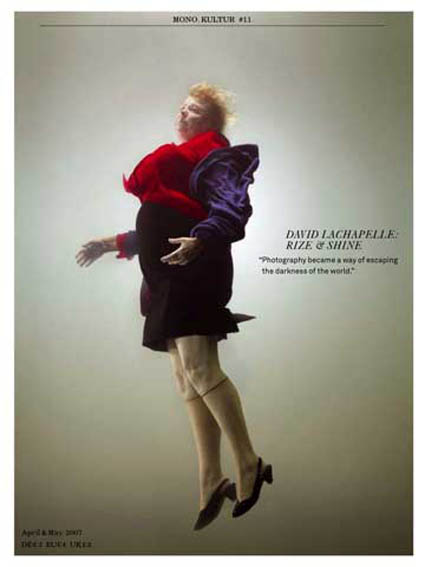 mono.kultur #11: David Lachapelle
Rize & Shine
mono.kultur is an interview magazine in full length and depth, extensive and unfiltered. One interview per issue. Quarterly. #11 features David LaChappelle Interview by Magdalena Magiera and Kai von Rabenau Photography by David LaChapelle
Photography became a way of escaping the darkness of the world.
There is no middle ground with David LaChapelle: either you love him or you hate him. The screaming colours! The loud humour! The glitz and the glamour! The freaks and outcasts! The voyeurism! The over the top scenarios! The giant sets! The outrageous clothes! The plastic! The sex! The religious connotations! These are all trademarks of LaChapelle that have earned him as much acclaim as contempt.
However, there is no denying that LaChapelle has created a unique body of work that sets him apart from any other contemporary photographer. Continuing in the spirit of Helmut Newton, Pierre and Gilles and Andy Warhol, who gave him his first assignment in the 1980s, he has succeeded in developing his very own universe and unmistakeable visual language, becoming one of the best-known photographers of our times.
Born in 1969 in Connecticut into a regular middle-class background, LaChapelle found himself dropping out of school by the time he was 15, returning briefly for a basic education in drawing and photography at an arts high school before moving to New York at the age of 17. Starting out as a regular contributor to Interview magazine, LaChapelle quickly worked his way into the world of fashion and celebrities. Twenty years later, his bursting portfolio includes virtually anybody with a ring to their name, from Madonna to Eminem, from Britney Spears to Leonardo DiCaprio. He has produced dozens of music videos as well as fashion editorials for every magazine of rank and prestige and advertising campaigns for some of the largest brands in the world. At 38, David LaChapelle has achieved everything a photographer could wish for.
And yet, maybe LaChapelle has always been celebrated for the wrong reasons. All too easily categorized within the bubblegum fantasy world of celebrities and super models, he has rarely been accorded the second glance which would reveal the transvestites and junkies lurking in the background, the frustration with consumerism and the media that are hidden underneath the shiny surface of his images. It was only with his down-to-earth documentary film Rize in 2005, about a new dance movement in the ghettos of Los Angeles, that David LaChapelle would motivate us to have a closer look at the person behind the image.
With the publication of Heaven to Hell – the third book of a trilogy – and his recent move to Hawaii, LaChapelle has now announced a clean break with his past. Refusing to work any longer within the commercial framework of celebrity and fashion photography, he intends to focus on personal work and gallery exhibitions instead, beginning with several current and upcoming shows in Berlin, New York, Buenos Aires and Milan. At 38, David LaChapelle is just at the beginning of a new career.