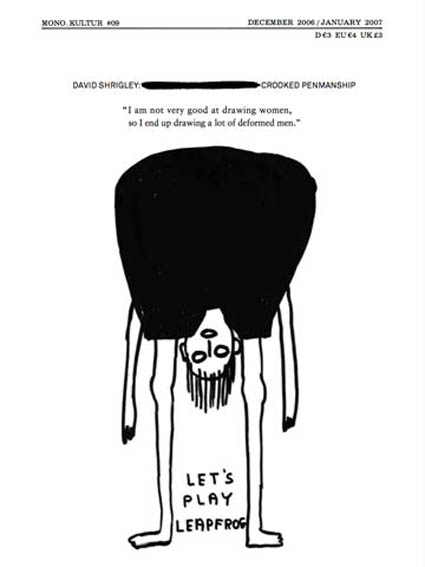 David Shrigley
Crooked Penmanship
availability unknown, if interested please write an email
Disclaimer: You might find yourself approaching some kind of fit, choking on your own laughter and chuckling away happily forever after when first encountering the disturbingly sinister and truly enchanting work of Glasgow based artist David Shrigley. You might also want to follow the advice given by the master himself: 'Feel Free to Howl.'
Since graduating in 1991 from the Glasgow School of Art where he studied environmental art, David Shrigley has exhibited widely both in the UK and internationally, and has produced an overwhelming number of books, next to sculptures, cartoons, photographs and animated films. His renderings of the absurdity principal to all human endeavours and diverse phobias accompanying daily life have appeared in just as many guises as in contexts.
Apart from being represented by established galleries in London, New York, Paris and Copenhagen, solo exhibitions at Kunsthaus Zürich and the Camden Arts Center, he regularly contributes cartoons for The Guardian Saturday Magazine and has produced the animated short film series Modern Thought for the BBC, as well as music videos for Blur and Bonnie 'Prince' Billy. He published Worried Noodles – The Empty Sleeve, a book of song lyrics in 12" format, earlier this year, and has just recently released his debut album Forced to Speak with Others on Azuli Records.
Part of the Late Night Tales series, the LP features 14 tracks of spoken word stories and mutterings by Shrigley on subjects as diverse as Satan's apocalyptic rock concert, giant hairy children, ludicrously clumsy fathers and an insect that desires to lay eggs inside someone's brain. In so doing, it carries the unmistakable signature of Shrigleyesque fantasies and observations also to be found in his rather childish-looking black and white drawings.
With dry gallows humor, Shrigley here takes a closer look at the hilariously disastrous errors that occur in the creation of mankind and expresses his rather strange and often disturbing thoughts with a beguiling honesty.