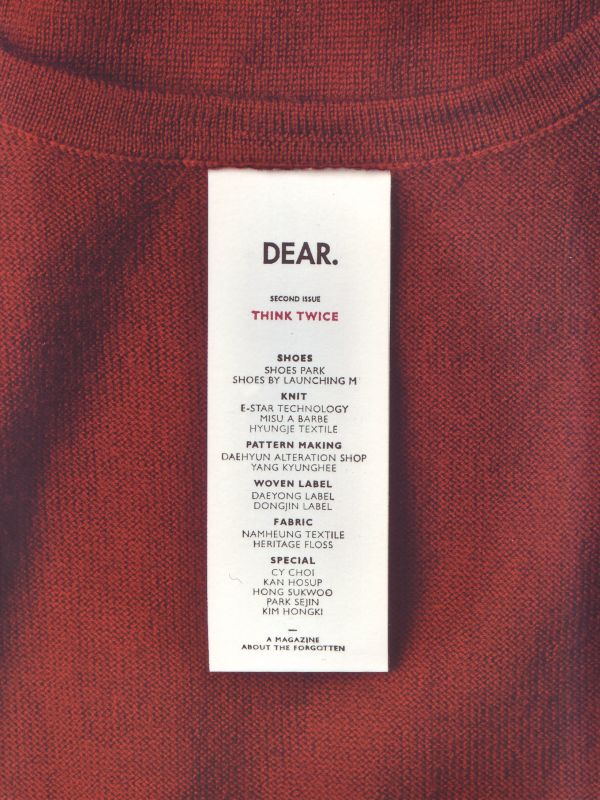 Article Number: 4605
Soft Cover,
English
, Glue Binding, 264 Pages, 2012
Dear. Second Issue
Think Twice
availability unknown, if interested please write an email
DEAR MAGAZINE focuses on the fashion production industry, small traders and enterprises in Korea. (Korean and English)
The purpose of DEAR MAGAZINE is not to buy sympathy or compassion from the readers by covering the disappointing reality of the fashion production industry. Rather, our priority is to boost awareness of the general production industry. The implications of the fashion production industry are not just the cases of Korea. The attention is needed because Europe and the United States have gone through, and because there exist countries that are now following the steps of Korea.
DEAR MAGAZINE aims resurfacing the value of fashion production industry and drawing public attention to industry. Under this motto, we desire that leading to ethical consumption and realizing social value. Moreover, we want to stimulate not only the parties concerned with the fashion industry but also all people who meet DEAR MAGAZINE. For this purpose, Team Dear chooses the magazine as the based medium. Also, to make up for limitation of printing media, we offer covering interview videos and photos through internet.
Language: English and Korean