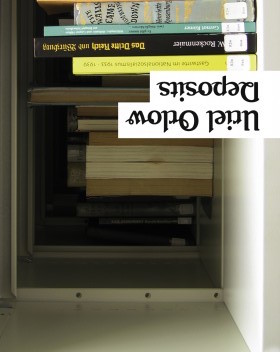 Deposits
availability unknown, if interested please write an email
The monograph Deposits documents and comments on four video and photographic works by Uriel Orlow, produced between 1996 and 2000.
These works present different facets of Orlow's approach to use art production as a strategy for the remembrance of the Holocaust. In his work, history is defined as an aspect of the present, not something to be searched for in the past. Orlow makes history visible by confronting sites of memory in their actual status, and interrogating them with contemporary problems.
Deposits is understood as a collection of these remarkable works, but also as an extension of their problematisation of memory and representation. The central theme of Uriel Orlow's work is the archive and the artist's agency as archivist. Deposits sets out to document these artworks, and to further develop their critical and philosophical tensions.
With texts by Alexander Garcia Düttmann, Kai-Uwe Hemken, Eric Jacobson, Michael Newman, Uriel Orlow and Monica Ross.
Language: German / English