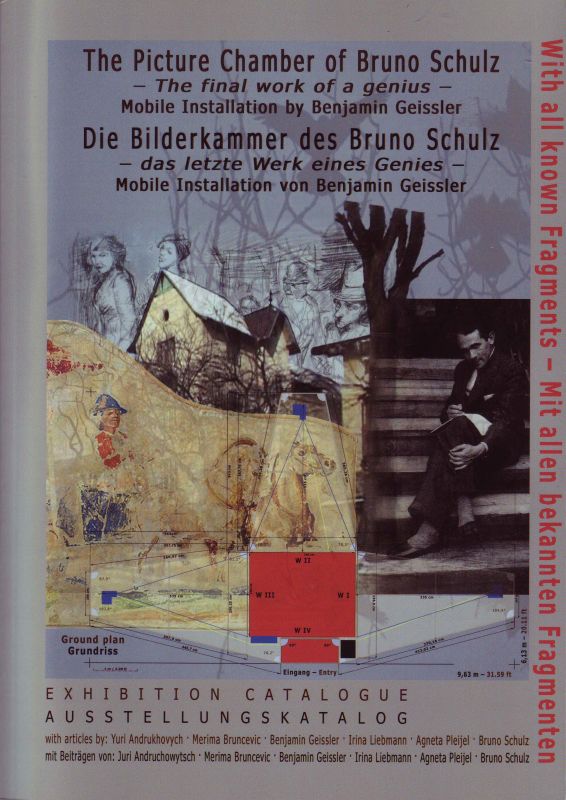 Article Number: 6208
Book with medium,
German
, Glue Binding, 88 Pages, 2012
The Picture Chamber of Bruno Schulz / Die Bilderkammer des Bruno Stolz
- das letzte Werk eines Genies -
availability unknown, if interested please write an email
Ausstellungskatalog zum Werk des österreichischen Künstlers Bruno Schulz.
Bruno Schulz (1892 – 1942)
Der Schriftsteller und Maler, wurde als Österreicher geboren, lebte als Pole und starb als Jude. Mit seinen Erzählbänden Die Zimtläden und Das Sanatorium zur Todesanzeige erlangte er in Polen Berühmtheit. Er gilt als einer der einflussreichsten und doch kaum bekannten Schriftsteller des 20. Jahrhunderts. Sein Opus Magnum Der Messias ist bis heute verschollen.
Unter deutscher Besatzung mußte Bruno Schulz 1942 die "Bilderkammer" als "Leibjude" für den Wiener SS-Hauptscharführer und "Blutordensträger" Felix Landau gestalten.
Benjamin Geissler entdeckte die Wandmalereien 2001 bei Dreharbeiten zu Bilder finden im heute ukrainischen Drohobycz wieder. Doch bereits kurze Zeit später wurde sie durch die Entnahme einzelner Fragmente durch die Gedenkstätte Yad Vashem und später durch das ukrainische Kulturministerium zerstört. Das Vorgehen löste eine weltweite Kontroverse aus.
Nach jahrelangen Bemühungen rekonstruiert Benjamin Geissler das letzte Werk des Genies in einer erstmals maßstabsgetreuen Multimedia-Installation. Zur Ausstellung ist ein Katalog mit Texten und zahlreichen Illustrationen erhältlich.
Sprache: Deutsch