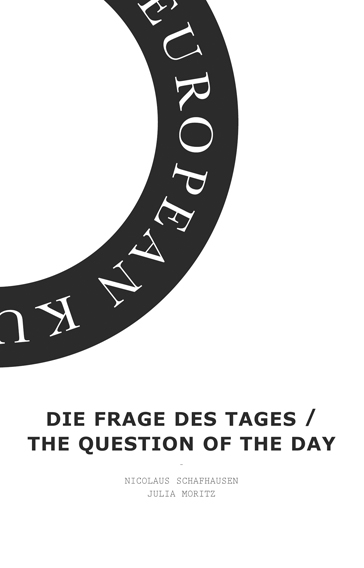 Article Number: 2549
Soft Cover,
German
, Glue Binding, 117 Pages, 2007
Die Frage des Tages / The Question of the Day
availability unknown, if interested please write an email
Why isn't there a "Kunsthalle" in bigger cities like London, Berlin or New York? Is it a myth to speak of internationality in relation to art? What is the function of a collection of contemporary art today? How important is functional architecture for curating exhibitions? Growing numbers of visitors – is this the main PR target of big museums? Of what interest is the European art market for US-American art galleries? How much Pop culture can a contemporary institution tolerate?

These are some of the 100 questions which have been asked over the last two years to experts from the fields of art, art theory, economics, and architecture. Their answers are gathered together in this book, published on the occasion of the European Kunsthalle project in Cologne.

A German "Kunsthalle" operates against a local backdrop, is internationally oriented and addresses a heterogeneous public often made up of tourists. Although cities are increasingly integrating them into their marketing strategies, when it comes to financing, they are being left more and more frequently to fend for themselves.

Like most cultural institutions, the "Kunsthallen" continue to assume that they have a relationship with the local citizenry. However, none of the demographic factors seem to favor the continuance of this traditional alliance, even though it has endured for several generations. On the one hand, migration, social reforms, and the collapse of city budgets; and on the other, both the increasing flexibility of the working world and urban life in transit have instead created a mobile, constantly changing urban society, which is in the process of discovering new sites where its members can enjoy cultural and leisure activities.

The German "Kunsthalle," like other international institutions that deal with the visual arts, has to adapt to these changes if it wants to continue to play a relevant part. With its 100 questions and answers from major practitioners of the art world and beyond, this book helps to examine the various parameters for a new institutional model.

D/E