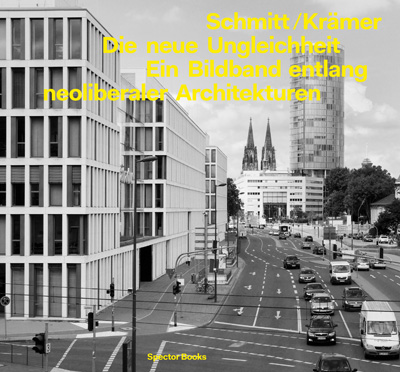 Die neue Ungleichheit
Ein Bildband entlang neoliberaler Architektur
€ 24.60
Im März 2009 stürzte das historische Stadtarchiv in Köln ein: eine Katastrophe, die als Folge des neoliberalen Stadtumbaus gelesen werden kann. Trotzdem hat es eine Kritik am Neoliberalismus oft schwer, weil ihr ein klar umrissener Gegenstand fehlt.
Angesichts struktureller Komplexität richten sich Analyse und Kritik oft nur auf Vereinzeltes. Dieser Tendenz begegnet Arne Schmitt in seinem Buch mit dezidierter Einfachheit, oder, um einen zentralen Begriff aus dem Text des Schriftstellers Thorsten Krämer zu gebrauchen: mit Un-Unübersichtlichkeit. Auf einem abgesteckten Spaziergang durch die Stadt Köln fotografiert Schmitt Architekturen verschiedener Epochen, alle in Schwarzweiß. Bilder und Buchform nehmen dabei Bezug auf jene thematischen Bildbände der 1950er und 1960er Jahre, in denen politische und gesellschaftliche Kritik der Gegenwart mit fotografischen Darstellungen der Stadt verknüpft wurde – ein Anspruch, den es zurückzugewinnen gilt.
In March 2009 Cologne's historical Stadtarchiv collapsed: a catastrophe that can be seen as a consequence of a neoliberal programme of urban redevelopment. Yet for all that, critiques of neo-liberalism often run into difficulty because they lack a clearly defined object to focus on. Faced with structural complexities, their analysis and criticism is often directed towards isolated instances. Arne Schmitt confronts this tendency in his book with a resolutely straightforward approach, or — to use a key concept from the accompanying text by writer Thorsten Krämer — with "uncomplexity". On a clearly mapped-out walk through Cologne, Schmitt photographs architecture from different periods, all in black and white. The images and the form of the book thus refer back to the theme-oriented photo-books of the 1950s and 1960s, in which political and social critiques of the day were combined with photographic depictions of the city — a level of achievement that is well worth recapturing.
Sprache: Deutsch/English