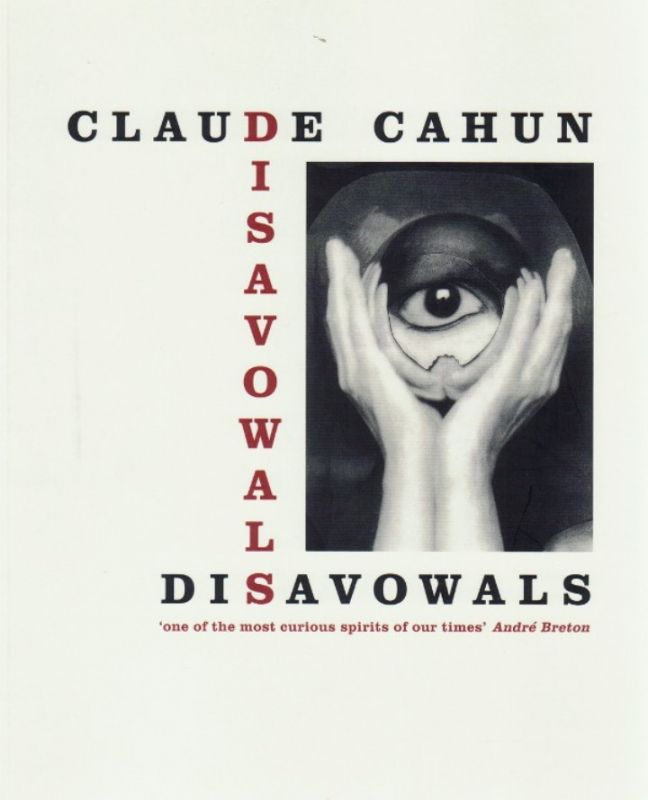 Disavowals
or Cancelled Confessions
"This is an important book . . . [that] must be viewed as Cahun and Moore's crowning artistic achievement. . . . The feat of translation that brings Disavowals to English readers is worthy of respect and gratitude. The handsomely conceived publication advances a project of illumination that will permit Anglophones to better appreciate a figure Breton described as `one of the most curious spirits (among four or five) of our times´." (Tirza True Latimer, H-France Review)
With an introduction by Jennifer Mundy, and contributions from Agnes Lhermitte and Francois Leperlier. Translation by Susan De Muth
'Claude Cahun's photographs are among the most celebrated of surrealist works. Disavowals reveals her also to be a major surrealist writer and radical theorist of sexuality.'
- Dawn Ades
Claude Cahun (1894-1954, born Lucie Schwob) was a poet, essayist, literary critic, translator, actress, Surrealist, revolutionary artist and photographer. Although primarily a writer, the range of Cahun's activities as an artist was rediscovered during the wave of interest in women artists, and more specifically Surrealism, during the 1980s. She is now known in the English speaking world as a photographer and, to a lesser extent, as a maker of surrealist objects. Despite the fact that Cahun was a self-confessed Anglophile and spoke fluent English, her texts were never translated into English during her lifetime.
Now for the first time, an English translation of Cahun's most important book, Aveux non avenus, first published in 1930, is being made available by Tate Publishing. With only five hundred copies of the original French version printed, the book is exceedingly rare but can be said to summarise Cahun's distinctive ideas. Accompanying the translation will be an extensive introduction, setting the text in the context of her life. The introduction draws attention to particular themes within the text, including self-interrogation, narcissism, metamorphosis, love, gender-switching, humour and fear and explore how these relate to the series of important photomontages made by Cahun with her lifelong partner, the illustrator Marcel Moore (Suzanne Malherbe). The photomontages are reproduced from the original glass-plate negatives. The volume also features the original preface from author Pierre Mac Orlan.
By making this lost masterpiece of Surrealist literature available to an English-speaking readership, this publication will bring further recognition to a seminal and previously underrated figure in twentieth-century art.