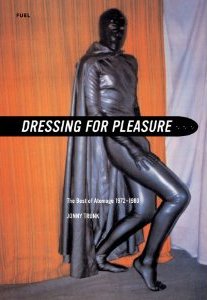 Article Number: 3818
Hard Cover,
English
, Thread Stitching, 208 Pages, 2010, FUEL
Dressing for Pleasure
The Best of AtomAge 1972-1980
AtomAge magazine was the underground bible of rubber, vinyl and leather fetish wear throughout the 1970s. (Engl.)
Founded, designed and published by John Sutcliffe as a way of showcasing his extraordinary clothing designs, it inadvertently became a focal point for followers and explorers of every kind
of fledgling clothing scene. For its readers AtomAge was both an instruction manual and a mirror.
From motorbiking and mask wearing, to mudlarking and wading worship:
it covered every conceivable wrinkle. Compiling the most astonishing imagery from all thirty-two issues of this now rare and sought after magazine, Dressing for Pleasure illustrates not just Sutcliffe's exceptional designs, but also, through their own photography and writing, the very fantasies and desires of the AtomAge followers.