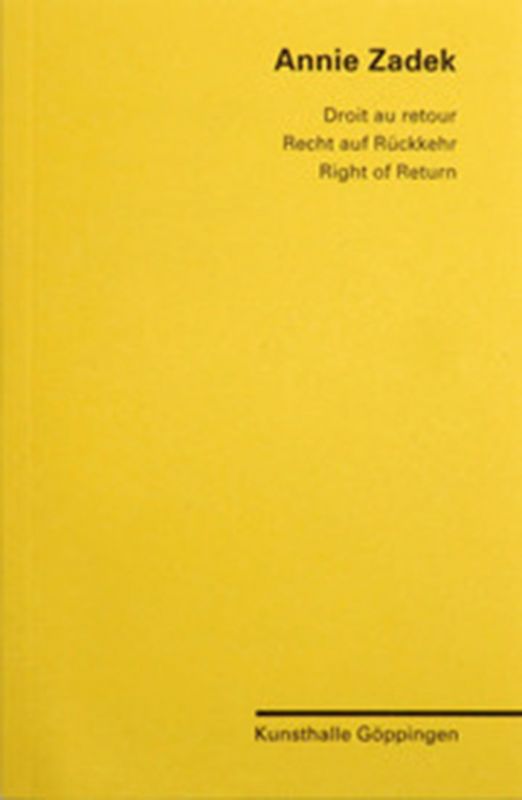 Article Number: 4541
Soft Cover,
French
, Glue Binding, 75 Pages, 2012
Droit au retour/Recht auf Rückkehr/Right of Return
availability unknown, if interested please write an email
Annie Zadek, französische Schriftstellerin mit jüdisch-polnischer Abstammung, lässt sich mit ihrem literarischen Werk nur schwer innerhalb von Gattungen verorten. Ihre Texte, die stets einen unmittelbar biografischen Bezug aufweisen, sind Texte gesprochener Sprache und wurden schon mehrfach auf der Bühne inszeniert. In der Kunsthalle Göppingen wird ihr Werk "Droit au retour" (Recht auf Rückkehr), das aus 540 Fragen besteht, als "Sprachskulptur" gezeigt.
Annie Zadek hat in ihrer Publikation Droit au retour. Recht auf Rückkehr. Right of Return einen Text veröffentlicht, der in einer Ausstellung vom 15. Juli bis zum 2. September 2012 in der Kunsthalle Göppingen als Installation zu sehen war. Die Publikation besteht aus einem intensiven Fragenkatalog, der sowohl Freiräume im Denken schaffen soll, als auch den Leser gezielt zu Thematisierungen von kulturellen Traumata und persönlichen Problemstellungen führt. Um einem großen und internationalen Publikum die Schrift zugänglich zu machen ist die Publikation dreisprachig gehalten. Die Gestaltung des Buches sollte zwei Anliegen der Künstlerin erfüllen: zum einen die auch in der Ausstellung abgedruckten Texte im Gewand eines griffigen Hefts dem Besucher zur Verfügung gestellt werden und zum anderen daraus einen zwar günstigen aber dauerhaften Begleiter zu machen. Das kleinformatige Buch in Heftform kann in jeder Tasche Platz finden und erinnert an die klassischen Reclam-Publikationen.
Sprache: Deutsch, Englisch und Französisch