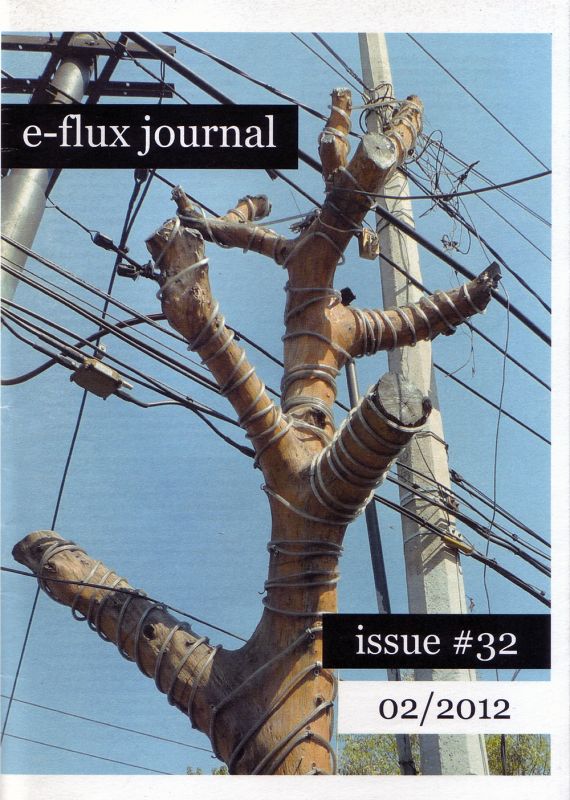 Article Number: 9211
Soft Cover,
German
, 68 Pages, 2012
e-flux journal issue #32
02/2012
availability unknown, if interested please write an email
with contributions by Adam Curtis / Hans Ulrich Obrist, Gean Moreno, Hito Steyerl, Slavoj Žižek, Alenka Zupančič.
The films of Adam Curtis—a BBC journalist by vocation, but a filmmaker and information archeologist in practice—appear as conspiracy theories wrapped in historical facts wrapped in social desires.
Also in the issue, Hito Steyerl concludes a three-part trilogy of texts with a close look at image spam as de facto portraiture. What do these images do to the humans they portray, and how do their floating signs form a negative image that effectively serves to repel their audience? Also, the second part of Gean Moreno's series on the spread of nonhuman and inorganic agents in neoliberal capitalism looks at Steven Shaviro's "accelerationist aesthetics" as an opening into forms of nonspace and a generic sublime encouraged by network topologies and global finance.
Finally, in the February 2012 issue of e-flux journal we are pleased to embark on a new project that will continue in the next two issues: the publication of the proceedings of the conference "One Divides Into Two: Dialectics, Negativity, and Clinamen," held at the Berlin Institute for Cultural Inquiry from March 28–30, 2011, and organized by Aaron Schuster, Gal Kirn, Pascale Gillot, and Ben Dawson.
Language: English