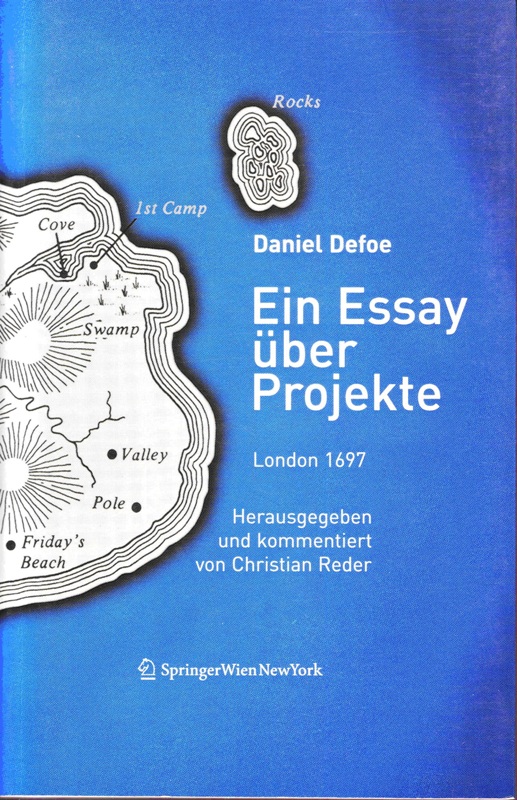 Lesebuch Projekt
€ 31.00
Im "Lesebuch Projekte. Vorgriffe, Ausbrüche in die Ferne" werden inhaltlich-perspektivische Dimensionen "freier", von Kontinuierlichem abgesonderter Tätigkeitsfelder diskutiert,
um angesichts der Inflation von Projekten aller Art die übliche Eingrenzung auf flexible Arbeitsformen und effizientes Projektmanagement zu überschreiten. Ob bezogen auf Mobilität, Unübersichtlichkeit, Ausbildung, Deregulierung: Es zeichnet sich Kommendes ab.
Versucht wird, Arbeitswelten und Möglichkeiten vom Künstlerischen, Gestalterischen, Analytischen her zu denken. Die Gedanken kreisen um Bedingungen und Chancen, allein oder durch Kooperation in überschaubaren Gruppen etwas zu bewegen, zu verwirklichen – also Möglichkeitsräume auszuweiten.
"Ein Essay über Projekte" von Daniel Defoe (1697) ist ein Grundlagentext zum Projektdenken der Moderne. Seine Erfahrungen als Geschäftsmann, Bankrotteur, Politikberater, Geheimagent, Journalist, Zeitungsherausgeber machen den Autor des "Robinson Crusoe" zum exemplarischen "Citizen of the Modern World", der ständig in Projekte verwickelt ist und solche, die "von öffentlichem Nutzen" sind, propagiert (Vervollkommnung des Handels, Beschäftigung der Armen, Zirkulation und Vermehrung des Staatsvermögens, einschneidende Verbesserungen im Bank-, Versicherungs- und Gerichtswesen, Reform der Betreuung geistig Kranker, Ausbau des Straßennetzes, gleichrangige Ausbildungsangebote für Frauen). Die ausführlich kommentierte Neuausgabe dieses auf Deutsch seit langem vergriffenen Textes ermöglicht es, aktuelle Debatten zur neuen "Gegenreformation" mit Anfangsphasen reformerischer Pragmatik in Bezug zu setzen.