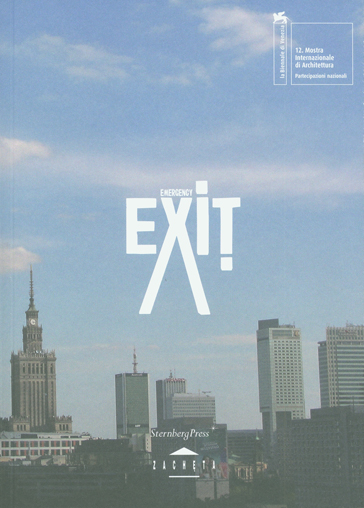 Emergency Exit
availability unknown, if interested please write an email
The Emergency Exit installation not only merges the disciplines of architecture and art within this project, it is the culmination of a collaborative dialogue between Agnieszka Kurant and Aleksandra Wasilkowska that unites their interests and professional experiences. (Engl.)
While the installation itself offers a unique and challenging experience within the Biennale context, there is also a specific set of ideas and a particular discourse in which the project is rooted. The Polish Pavilion thus represents both a cultural and epistemological moment that we attempt to unpack in this catalogue. Importantly, this background is not purely to be found in literary, theoretical or discursive texts. Rather, we hope that the many photographs, cultural references, and graphics give as much meaning to the pavilion as the essays we have brought together.

Edited by Elias Redstone

Texts by Pedro Gadanho, Agnieszka Kurant, Markus Miessen, Magnus Nilsson, Hans Ulrich Obrist, Aaron Schuster, Aleksandra Wasilkowska

The artists Agnieszka Kurant and Aleksandra Wasilkowska are representing Poland at the 12th International Architecture Exhibition in Venice 2010, August 29 – November 21, 2010.

In their essay Agnieszka Kurant and Aleksandra Wasilkowska present the ideas behind Emergency Exit and the concept of "urban portable holes." This is complemented by an archive of reference images, theories, films, and documents that inspire and support their work within expanding and interrelated subjects: "Utopian Ruins," "Urban Exploration," "Materialization of Utopias," "ComplexCity," and "Self-organization," "Extremely Rare Events," "Holes," "Fictional Sports and Escapism."