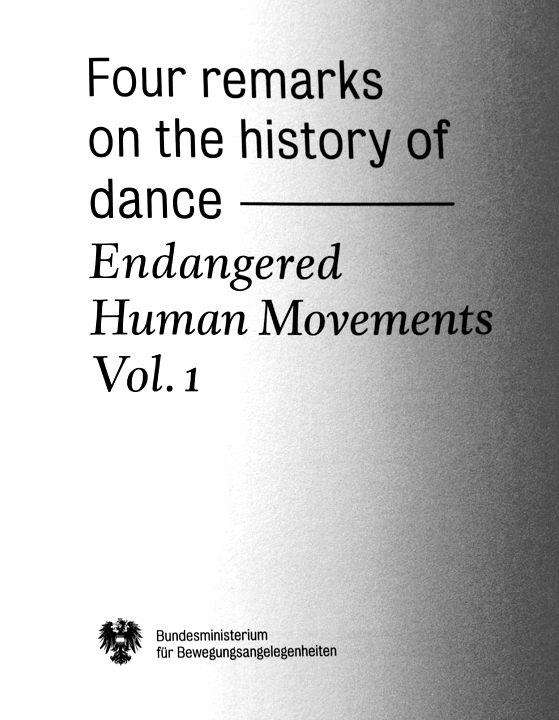 Article Number: 7355
Soft Cover,
English
, Thread Stitching, 320 Pages, 2015, Nadaproductions
Endangered Human Movements - Vol. 1
Four remarks on the history of dance
€ 22.00
Endangered Human Movements is a multi-disciplinary project including visual arts, performance and a series of publications. Vol I. Four Remarks on the History of Dance are a discursive and artistic journey through the disappearance of movement.
The Four Remarks in this book are meant to be a collection of contributions towards the expansion of a narrative that has been historically ethnocentric, enriching that narrative with indigenous movements and perspectives, unknown, sidelined and exoticized for centuries. The texts on the movements of Water, Air, Fire and Earth are conceived as notes on the empty spaces of dance history (and perhaps history in general). They do not claim to be purely academic, but are first and foremost an imaginary journey that deals – by way of free associations – with a contemporary interpretation of dances found in ethnographic films, documentary film archives, YouTube videos, in first person accounts, oral tradition, rumours, and legends. The book contains contributions from a variety of academic fields highlighting especially the conditions of disappearance of cultural expression.
Language: English, German, Spanish, Serbian