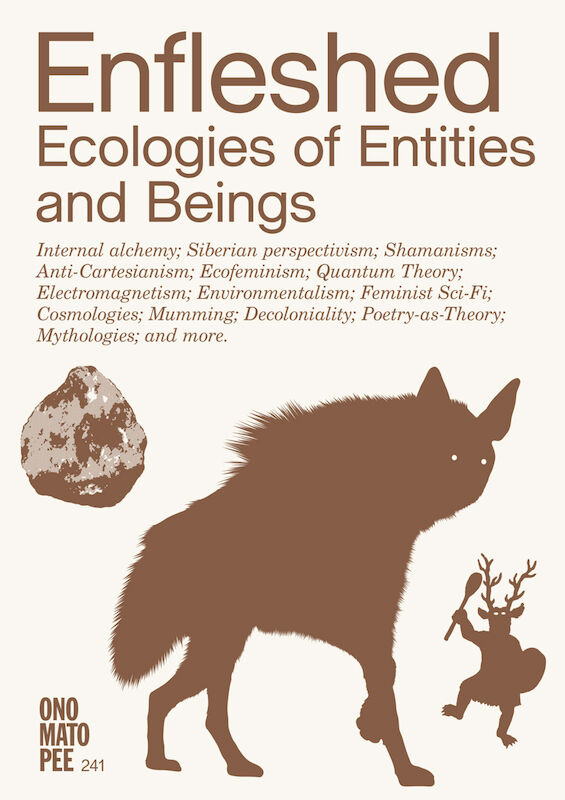 Enfleshed
Ecologies of Entities and Beings
€ 26.00
Ökologien von Entitäten und Wesen bringt Praktiker, Denker und Künstler aus ganz Eurasien zusammen, um gemeinsam multispezifische Ökologien zu erforschen. Der Band spiegelt anthrozentrische und verkörperte Ansätze zur Zusammenarbeit und Wissensproduktion wider – Prozesse, die immer mit einer Vielzahl von Entitäten und Akteuren verflochten sind.

In diesem Buch fließen die Beiträge wie ein Fluss über den eurasischen Kontinent und verzweigen sich in alle Richtungen. Die Mitwirkenden beschäftigen sich mit der Erforschung experimenteller epistemischer Allianzen, die als Möglichkeit dienen, neue dialogische Beziehungen zu schaffen und zu lernen. Die Konflikte, die durch ökologische Katastrophen, Krieg, die globale Wirtschaft, Identitätspolitik und die Machtstrukturen der Wissensproduktion und Wissenschaft erzeugt werden, verweben sich hier mit Schamanismen, Ritualen, Magie, Spekulation, Politik und Poetik. Wie können wir uns eine aktive und implizierte Rolle des Menschen als ein Wesen unter anderen Wesen vorstellen? Was könnte dies bedeuten und was könnte dies erzeugen?
Enfleshed: Ecologies of Entities and Beings brings together practitioners, thinkers, and artists from across Eurasia to collectively explore multispecies ecologies. The volume reflects anthrodecentric and embodied approaches to collaboration and knowledge production––processes that are always interwoven with a multitude of entities and actors.
In this book, the contributions flow like a river across the Eurasian continent, branching out into all directions. The contributors engage in an exploration of experimental epistemic alliances, which operate as a way to learn and make new dialogic relations. The conflicts generated by ecological disaster, war, the global economy, identity politics, and the power structures of knowledge production and science here intertwine with shamanisms, rituals, magic, speculation, politics, and poetics. How do we imagine an active and implicated role of the human as one being among other beings? What might this entail, and what might this generate?